The Irish government is looking to close a loophole that may allow data centers to be powered exclusively by natural gas.
RTE reports that Minister for Climate Eamon Ryan instructed Gas Networks Ireland (GNI) not to provide connections to data centers that are going to rely exclusively on gas for power.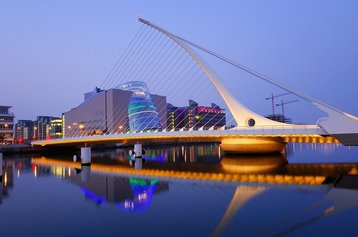 In the letter, sent in July and published by RTE via a Freedom of Information request, Ryan noted that the government's Statement on the Role of Data Centres in Ireland's Enterprise Strategy that was published over the summer highlights the fact that 'Islanded' data center developments, that are not connected to the electricity grid and are powered mainly by on-site fossil fuel generation, would not be in line with national policy on decarbonization.
Minister Ryan told the GNI: "It would not be appropriate for Gas Networks Ireland to sign any more contracts to connect data centers to the gas network where the data center would be powered mainly by on-site fossil fuel generation."
The request follows on from similar instructions which stopped fossil-fuel-powered data centers connecting to the electrical network two years ago.
It is unclear exactly many data centers in Ireland are supplied exclusively by gas, but RTE notes that there are 'a small number' in the country, with a number of applications for similar developments being considered. The Government is concerned these applications could circumvent the State's prohibition on fossil fuel-dependent data centers.
Minister Ryan told RTE: "I was concerned there could be further gas connections. I said we have to stop here and we have to say anything we do has to meet our climate targets and meets or energy security needs. I wanted make sure Gas Networks Ireland also knows that."
However, Minister Ryan's most recent instruction has reportedly hit a legal impediment that may require a change in legislation. Gas Networks Ireland has indicated that it was mandated under the Gas Act to supply connections to third parties, but has temporarily paused new connections while it consults with the Commission for the Regulation of Utilities and the Department of Energy.
In a statement to RTE, Gas Networks Ireland said it had responded to Minister Ryan's letter to advise, "We are assessing the Government's paper to establish the basis on which we implement the recommendations."
It added: "Gas Networks Ireland offers third-party access to the national gas network in line with directions set by the Commission for Regulation of Utilities (CRU) in accordance with the Gas Act."
Last week, Sinn Féin spokesperson on Climate justice, Senator Lynn Boylan, called on Minister Ryan to bring forward emergency legislation to prevent data centers from connecting to the gas grid "without delay".
"I have been calling for stricter controls for data centers for a long time. The government continues to pursue Fine Gael's hair-brained strategy," she said. "The fiasco of data centers has gone on too long. It boggles the mind how Fianna Fáil and Greens are going along with it. Enough is enough. Eamon Ryan must take decisive action and legislate to stop gas network connections now."
While the government has repeatedly said there is no national ban on data centers, a de facto moratorium has been in operation since the turn of the year in Dublin after grid operator EirGrid said the grid in the capital was under strain. No new data center applications are expected to be granted a grid connection before 2028.
Interxion (Digital Realty) paused plans for expansion in the area as a result, while Dataplex recently entered voluntary liquidation after EirGrid denied power contracts at two data center sites. Microsoft, AWS, and Equinix have also reportedly paused projects in the area.
Applications previously granted a connection before the ban came into force, estimated to be more than 1GW of developments, are still set to be built and connected. Projects with planning permission but no authorized grid connection are unlikely to be able to go ahead.
More in Critical Power