Green Mountain is expanding its data center campus outside Oslo, Norway.
The company this week announced it had started construction of a new 10 MW expansion at its OSL1-Enebakk site (previously known as DC3-Oslo).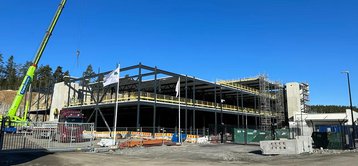 The new two-story, 5,800 sqm (62,430 sq ft) building is an extension to two existing buildings dedicated to an 'international cloud provider.'
"We are very excited about all the activity going on at our Enebakk campus right now. Especially that our client has renewed their trust in us and chosen to expand their activities here," said Svein Atle Hagaseth, CEO of Green Mountain.
CTS Nordics has been chosen as the Design & Build contractor for the expansion project, which will utilize modular buildings.
At full build-out, the campus could reach 93MW. There are two other single-tenant 4MW buildings on the site; the first launched in 2020 and the second in 2021.
In December 2022, the Nordic data center company completed a new 13.5MW building at the campus. The 10,000 sqm (107,700 sq ft) three-story multi-tenant colocation facility was first announced in late 2021.
Green Mountain was founded in 2009. Israeli real estate firm Azrieli Group acquired Green Mountain from Norwegian real estate firm Smedvig for $850 million in 2021.
It operates three sites across Norway in Oslo, Rjukan, and Rennesøy. Further campuses are planned in Gismarvik, Kalberg, Undheim, and Hønefoss. The company has signed a 90MW hosting deal with TikTok at its OSL2-Hamar site in Hønefoss.
While the company primarily operates in Norway, it last year acquired a data center outside London in Romford and recently announced plans for a new campus outside Frankfurt in Germany.
More in Construction & Site Selection