Green Mountain is opening a 4MW data center on its DC3-Oslo (DC3) campus in Enebakk near the city of Oslo, Norway.
The campus was first announced in September 2019.
Capital data center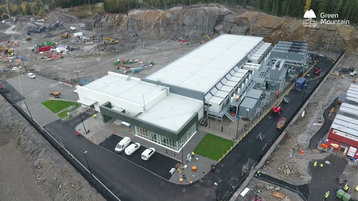 The company's campus is located 20km from Norway's capital, Oslo, and comprises 75,000 sq m (807,000 sq ft) with a capacity of 75MW.
Green Mountain built the site in an area already housing several connectivity providers, but due to the increased need for fiber at the site, additional capacity is planned and being built in the area. The network improvements will be completed following DC3's opening in the coming weeks.
For energy, DC3 has two independent power grid suppliers and can also source energy from several hydropower plants. DC3 will be powered with renewable energy and use the cold climate of Norway to keep its servers cool most of the year. There are also plans to reuse waste heat from the data center in a district heating system.
DC3's first data center construction began in September 2019 and is a 4MW facility. Another facility of the same size is in the works at the campus and will be built by August 2021.
CEO of Green Mountain, Tor Kristian Gyland, said: "Today marks an important milestone in the company's history and supports our growth strategy. This location, with availability to diverse international fiber routes and proximity to the capital, is ideal for both international hyperscalers and domestic and international enterprises."
The Enebakk facility is Green Mountain's third location in Norway after its mountain facility near Stavanger and Rjukan data center at Telemark.
DC3's opening was attended by the Norwegian Minister of Regional Development and Digitalization, Linda Hofstad Helleland.
Helleland said: "I am pleased to see that the Norwegian data center industry is growing. Data centers play a fundamental role in the digital economy, job creation, and our society at large. This has become increasingly clear in recent months. Data centers have not only assisted us in our day-to-day activities, like online meetings and video chats with family members; they are also central in developing existing industries, and creating new ones."
Elsewhere, Green Mountain also announced plans back in May to develop a "cluster" of data centers in Norway's Kalberg Valley.
This campus will follow the establishment of an electrical substation and direct fiber connections to the UK and Europe. Green Mountain says the project in the Kalberg Valley is intended to attract international hyperscalers, colocation providers, and enterprise customers. The new plot will be an initial 3MW site with an eventual capacity of around 10MW. The campus will have around 225,000 sq m (2.4m sq ft) with a possible extension of 25,000 sq m (250,000 sq ft).
Green Mountain is also part of the project to build the NO-UK cable; a submarine cable providing connections from Norway to England. The 700km (435 mile) cable will be deployed in 2021 and house its landing station in Green Mountain's Stavanger data center.