Norwegian data center firm Green Mountain has formed a new joint venture with energy firm KMW to develop a new campus outside of Frankfurt, Germany.
The two companies have formed a 50:50 joint venture to develop a 54MW data center site in Mainz. Three buildings are planned at the 25,000 sqm (269,100 sq ft) site, known as FRA1-Main, and to be located adjacent to KMW's power plants.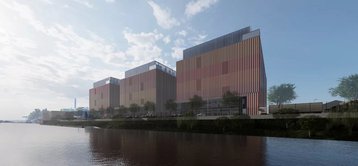 Local authorities have approved the building application and construction will start in Q3 2023.
"With this partnership, Green Mountain continues its pan-European growth strategy. We are excited we can finally offer a green data center located in one of the hottest data center markets in Europe. However, it is not just about growth, but creating sustainable opportunities. The collaboration with KMW makes this possible," said Svein Atle Hagaseth, CEO of Green Mountain.
"It was important to find a partner with sufficient experience in operating data centers as well as sales and marketing. Green Mountain complements us perfectly," added Oliver Malerius, CEO of KMW.
The companies said the buildings can support both multi-tenant contracts as well as dedicated buildings. Power will be provided by KMW's renewable portfolio, while the local KMW gas plant will supply the backup power in lieu of backup generators.
On its website, KMW said the first 6,000 sqm (64,600 sq ft) building, located on the Ingelheimer Aue, is set to break ground in Autumn 2023 and go live at the end of 2024.
The site will utilize river cooling from the adjacent Rhine River and target a PUE of 1.3. Up to 60MW of waste heat will be fed into the Mainz district heating system,
"We are convinced that Green Mountain not only has the necessary know-how but also shares the values of KMW and its shareholders," adds Stephan Krome, CFO of KMW.

Israeli real estate firm Azrieli Group acquired Green Mountain from Norwegian real estate firm Smedvig for $850 million in 2021. While the company primarily operates in Norway, it last year acquired a data center outside London in Romford.
Law firm Taylor Wessing advised Azrieli/Green Mountain on the transaction. TTSP HWP Planungsgesellschaft mbH from Frankfurt, which specializes in the general planning of data centers, is involved in the project. The Kölling architectural office from Bad Vilbel designed the façade.
Officially founded in 1931 with roots back to the late 1800s, KMW has invested in around 10 wind farms, two solar farms, a wind-to-hydrogen plant, a CHP plant, a biogas plant, a 330MW peaking plant, a district heating storage tank, and several power plants.