Chinese-owned social media platform TikTok will use a data center in Norway with a capacity of up to 150MW.
Built and operated by Green Mountain, the OSL2-Hamar site will consist of five buildings each with a capacity of 30MW. This, the company says, will make it the largest data center campus in Norway.
TikTok has signed an initial contract for three buildings with 90MW of capacity by November 2023, but with the option to extend capacity by up to 150MW by 2025.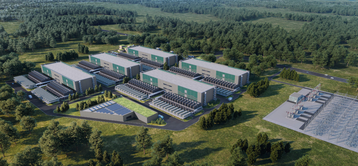 The facility will be fully powered by renewable energy, primarily from hydropower. The data center's waste heat will be offered to the surrounding areas for undisclosed uses.
"The Hamar region is an ideal location for our data centers. Here, they have a surplus of renewable power, pre-zoned land areas, and a competent workforce," Svein Atle Hagaseth, the CEO of Green Mountain, said.
"This is the first hyperscale data center of this scale in Norway and we are grateful for TikTok's vote of confidence in the project. The site will become a true example of our vision of 'Setting the green standard.'"
On 9 March, representatives of the Norwegian government, local authorities, and TikTok will be at a launch event in Hamar, 100 kilometers (62 miles) north of Oslo.
TikTok said that the data center - along with two planned Dublin, Ireland facilites - were all part of its 'Project Clover' initiative to store European data within the EU.
"Project Clover is a program focused on creating a secure enclave for European TikTok user data," Theo Bertram, TikTok's VP of European government relations & public policy, said. "This initiative will introduce a number of new measures to strengthen existing protections and further align our overall approach to data governance with the principle of European data sovereignty."
European TikTok user data will begin to be stored locally on the first Dublin data center from this year. Once operational, the company said that the three data centers will represent a total annual investment of €1.2bn ($1.26bn).
TikTok separately has the Oracle-cloud-based 'Project Texas' initiative in the works to store US data locally, as it faces increasing scrutiny from American lawmakers.