Green Mountain has expanded its DC3-Oslo data center in Norway.
The recently acquired Norwegian data center firm opened the 4MW facility just outside the capital city last year.
The company said this week it has added a 4MW building to the site, doubling its capacity. The nine-month project also added a new backup generator set.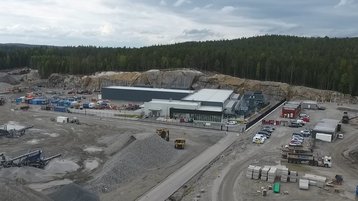 Green Mountain CEO Tor Kristian Gyland said the company has secured power and land to "grow this site for several years to come."
The company said the new building was a built-to-suit project for a 'large international cloud provider' and was delivered ahead of schedule despite Covid-19.
"The project progressed nicely although the Covid-19 situation posed challenges with for instance equipment deliveries. However, we managed to find alternative solutions and actually completed the project a few days ahead of schedule," said project manager, Håvard Lurås.
Last month Israeli real estate firm Azrieli Group acquired Green Mountain from Norwegian real estate firm Smedvig for $850 million.
Founded in 2009, Green Mountain operates three data centers in Norway. Its flagship facility, DC1-Stavanger, is a former NATO ammunition storage facility built into a mountain with 22,600 sq m (230,000 sq ft) of space.
As well as DC3-Oslo, the company also operates the 7.5MW DC2-Telemark facility in Rjukan. It also has plans for a campus in the Kalberg Valley, and earlier this year bought 50,000 sqm (538,000 sq ft) at the Haugaland Business Park in Gismarvik for a new data center.
Green Mountain recently partnered with land-based lobster and trout farms to provide the aquaculture sites with excess heat.