A data center used by the University of Bretagne-Sud caught fire in Brittany, France.
The French university's automatic fire protection systems protected the facility from serious damage, but systems were brought offline for an extended period.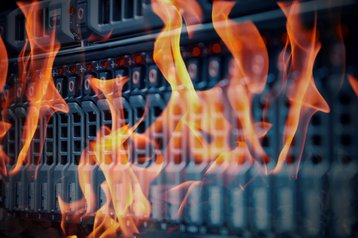 On Saturday night, the data center began to smoke as a system caught fire at the Tohannic campus in Vannes. The exact cause of the fire, or which system was responsible, was not disclosed.
"Our automatic protection systems made it possible to [stop] the incident very quickly, leading to a shutdown of all the servers and most of our applications," UBS president Virginie Dupont said. The automatic protection system relied on nitrogen gas to snuff out any flames.
"We are restarting things one after the other," Dupont told Le Telegramme.
The event comes roughly a year after another fire in France - this time much more devastating. In early 2021, a Strasbourg data center belonging to OVHclound was destroyed in a fire. A major contributor to this fire is believed to have been UPS systems, and a report from the local fire service identified apparent failings. OVHcloud promised to set up a lab to investigate data center fires, but has not yet done so, nor has it given its explanation of the cause of the fire.
Data center fires are uncommon, but many have occurred in recent years. Just last week a fire brought Malaysian state government services offline.
Back in April, a data center at the Supreme Court of Manila, the Philippines, caught fire, with a UPS thought to be to blame. A few months before, there was a small fire at an Equinix data center in Madrid.
In December 2021, two people were killed in a Cyber One data center fire in Jakarta, in which servers reportedly exploded. DCD has not heard any details of the cause of this fire.
In March 2022, a fire at a telco data center in Tehran caused Internet outages across Iran.