A data center at the Supreme Court of Manila, the Philippines, caught fire Tuesday morning.
The fire started at around 6am and was swiftly brought under control by the Bureau of Fire Protection. The Supreme Court's website remains offline at the time of writing.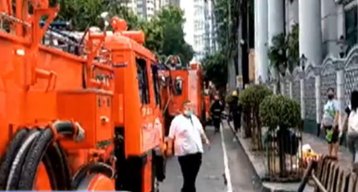 The fire was at the Supreme Court's Centennial Building on Padre Faura Street and Taft Avenue and the fire department raised the alarm itself at 6.05am, according to a report by Dobol B TV.'s Manny Vargas.
The fire was quickly contained and put out, although traffic was heavy for a time because streets were closed.
Witnesses told Vargas that a UPS at the data center had caught fire, reporting the sound of a blast and a smell of burnt wire.
The Supreme Court's chief public information officer said the UPS had exploded, according to a Manila Times report.
The Supreme Court was able to continue with plans to announce Bar examination results today, according to Supreme Court SC Associate Justice Marvic Leonen: "This will NOT affect the release of the results of the bar," he tweeted. "We have secured the data files and our chambers and OBC [Office of the Bar Confidant] are fully operational. As has characterized our operations, we have preparations for every contingency. Keep safe everyone."
Due to the data center outage, students and their friends and family were asked to refer to the official hard copy of the list of students "It has a watermark 'official copy.' Any other list may not be accurate," said a Tweet.
Data center fires are rare, and usually brought under control quickly, without causing injury.
One year ago, a Strasbourg data center belonging to OVHclound was destroyed in a fire. A major contributor to this fire is believed to have been UPS systems, and a report from the local fire service identified apparent failings. OVHcloud promised to set up a lab to investigate data center fires, but has not yet done so, nor has it given its explanation of the cause of the fire.
In December 2021, two people were killed in a Cyber One data center fire in Jakarta, in which servers reportedly exploded. DCD has not heard any details of the cause of this fire.
In March 2022, a fire at a telco data center in Tehran reportedly caused Internet outages across Iran.