European data center operator Data4 is building a second Spanish campus outside of the capital city, Madrid.
The company this week announced plans for a new data center campus in San Agustín del Guadalix, a town located north of Madrid, near the Sierra de Guadarrama.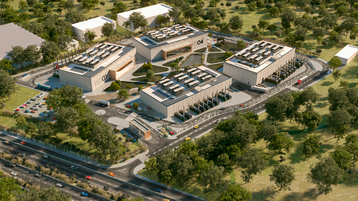 The new MAD02 campus will span four buildings totaling 16,000 square meters of IT space and 80MW. The company aims to invest €530 million ($583.2m) in the project.
Groundbreaking for the first phase of development is scheduled for next month. The first phase is set to launch in 2025, with construction at the campus set to continue until 2029.
Planned sustainability efforts for the new campus include reusing waste heat to heat homes, recycling rainwater and gray water, use of low-emission concrete and recycled wood fiber coatings, and installation of solar panels.
The new San Agustín del Guadalix campus joins the MAD01 campus in Alcobendas. Launched in 2020, the eight-hectare campus will host six buildings totaling 70MW at full build-out. Work on the third building is scheduled to be completed by the end of 2024.
We will build this new sustainable and innovative campus in San Agustín del Guadalix that will benefit both the local community and our ambition to quickly reach 1GW capacity," said Data4 CEO Oliver Micheli. "We see great market opportunities in Spain in terms of digital infrastructure, where we plan to make an investment of €850 million ($936m) until 2030."
Established in 2006 by Colony Capital (now DigitalBridge), Data4 currently operates around 30 data centers in France, Italy, Spain, Poland, and Luxembourg.
The company is also developing a former army barracks in Hanau, Germany, that could reach 200,000 sqm (2.1 million sq ft) and 180MW.
The company was acquired by AXA Investment Managers for an undisclosed amount in 2018, with Danish pension fund PFA acquiring a 20 percent stake in 2020. In 2021 the operator secured €620 million (then $737.5 million) in debt financing to fund its expansion goals across Europe.
The company was sold to Brookfield Infrastructure earlier this month.
A version of this story appeared on our Spanish edition.
More in Construction & Site Selection