Data4 is developing a new data center building at its campus in Madrid, Spain.
"A third data center [is] coming soon in our Alcobendas Campus," the Brookfield Infrastructure-owned company posted on LinkedIn this week. A pre-existing building was demolished in a month to make way for the new data center.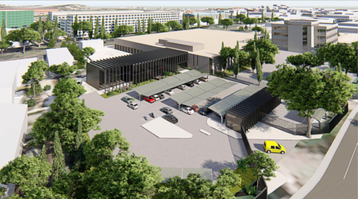 Launched in 2020, the Madrid campus is located at Avenida de la Industia 15 in Alcobendas. At full-build out, the eight-hectare campus will host six buildings totaling 70MW.
According to a video on Data4's site, DC01 offers 14MW of IT power across 6,500 sqm of data hall space, DC02 offers 6.6MW of IT capacity across 3,000 sqm of white space, while DC03 also offers 6.6MW of IT capacity across 3,000 sqm of white space
Established in 2006 by Colony Capital (now DigitalBridge), Data4 currently operates around 30 data centers in France, Italy, Spain, Poland, and Luxembourg.
The company is also developing a former army barracks in Hanau, Germany, that could reach 200,000 sqm (2.1 million sq ft) and 180MW.
The company was acquired by AXA Investment Managers for an undisclosed amount in 2018, with Danish pension fund PFA acquiring a 20 percent stake in 2020. In 2021 the operator secured €620 million (then $737.5 million) in debt financing to fund its expansion goals across Europe.
The company was sold to Brookfield Infrastructure earlier this month.