French data center firm Data4 has broken ground on its first Polish data center campus in Warsaw.
The company first announced plans to invest up to €200 million ($237m) in its first campus in Poland in July 2021.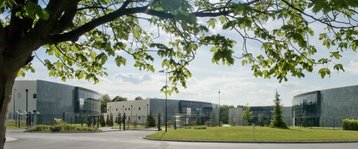 This week the company announced it had broken ground on the campus and plans to invest up to €250 million ($278 million) on developing the site. Located in Jawczyce on a four-hectare plot, the company plans to build three data center buildings totaling 15,000 sqm (161,500 sq ft) and 50MW. The first building is due to come online in Q1 2023.
"We are convinced that the potential of the Polish market driven by the commitment of the Polish government and businesses, as well as the deployment of international cloud platforms will contribute to a fast and efficient digital transformation," the company said in a statement.
Established in 2006 by Colony Capital (now DigitalBridge), the company was acquired by AXA Investment Managers for an undisclosed amount in 2018. The company has 24 data centers in France, Italy Luxembourg, and Spain.
In April 2021, the firm secured €620 million ($737.5m) in debt financing funded by Deutsche Bank, Société Générale, and SMBC. As well as the expansion into Poland, the company said at the time it planned to double the capacity of its Paris campus from 100MW to 200MW, expand its campuses in France (Marcoussis), Italy (Milan), and Spain (Madrid), and enter markets in Central Europe and Scandinavia.
In a recent LinkedIn post, the company said it had delivered seven data center buildings in 2021; three in France, two in Italy, and two in Spain.
More in Construction & Site Selection