Cryptomining firm Foundry Digital has acquired two data centers from struggling rival Compute North.
Compute North, which provides data center hosting services for cryptocurrency miners and blockchain companies, filed for Chapter 11 bankruptcy in Texas in September with the firm owing as much as $500 million to at least 200 creditors.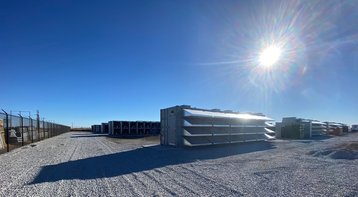 Foundry this week announced that it has entered into an asset purchase agreement to acquire two turnkey cryptocurrency mining facilities and other assets from Compute North, with an option to acquire a third facility that is under development. The terms of the deal were not disclosed.
The deal includes two sites in North Sioux City, South Dakota, and Big Springs, Texas, that have a fully operational capacity of 6MW and 11 MW, respectively; rights to build out and operate Compute North's facility in Minden, Nebraska; a fleet of mining machines owned by Compute North; and intellectual property, including rights associated with MinerSentry, Compute North's proprietary cloud-based data center management and monitoring software.
"It has been our mission to strengthen the infrastructure of digital assets by supporting mining companies through all market cycles," said Mike Colyer, CEO of Foundry. "Compute North has been our longtime partner and we are happy to have the opportunity to continue building upon the foundation they have laid over many years while growing the North American mining ecosystem."
Foundry was formed by the crypto-industry holding company Digital Currency Group in 2019. It offers a hardware buying marketplace, mining services, training and consulting, and logistics services.
Prior to its bankruptcy filing, Compute North operates four US data centers; two in Texas in McCamey (280MW) and Big Spring, and one each in Kearney, Nebraska (100MW), and North Sioux City, South Dakota. A third 300MW facility was in development in Granbury, Texas (also known as the Wolf Hollow site). In February, Compute North raised $385 million, consisting of an $85 million Series C equity round and $300 million in debt financing.
The company's assets are worth between $100 million and $500 million, according to its Chapter 11 petition. It has sold less than $2 million of container assets to Crusoe Energy, while Generate Capital has acquired Compute North's stake in two sites – a 300MW facility in Wolf Hollow, Texas, and a 100MW site in Kearny, Nebraska – for just $5 million.
Compute North is not the only firm struggling amid high energy costs and a low Bitcoin value. Core Scientific has warned it could run out of money by the end of the year, while Iris Energy recently defaulted on some of its debts.
In its most recent SEC filing, Core Scientific said it made a net loss of more than $400 million for Q3 2022, and a $1.7 billion loss for the last nine months.