Data center developer CloudHQ is developing a new hyperscale campus in São Paulo state, Brazil.
The company held a groundbreaking ceremony in Paulínia. The facility will be CloudHQ's first site in the country and Latin America.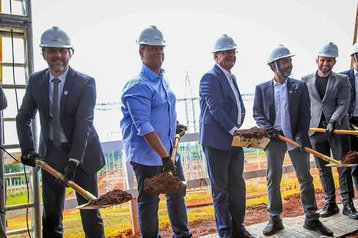 The new 228MW campus will reportedly feature up to six buildings, and see more than $3 billion invested. The first phase will comprise three buildings, each with 48MW of capacity.
"Paulínia is the ideal location for a hyperscale data center campus due to its strategic location in a technology hub. It is also close to São Paulo, the largest metropolitan region in South America and an important financial, technology and innovation center," Gabriel Alday, CloudHQ business development and leasing manager, told BNAmericas.
The campus will be supplied by a 225MW power substation, with potential for 400MW. The transmission lines linking the site to the grid are scheduled for completion in the first half of 2024.
Civil construction works are being carried out by Afonso França Engenharia.
"For us it is an honor and a great pride to participate in this project that makes us, increasingly, specialists in critical mission works," added Guilherme França, director of Afonso França Engenharia.
CloudHQ was founded in 2016 by DuPont Fabros Technology co-founder and CEO Hossein Fateh. The company has existing and planned data center developments in Culpeper, Ashburn, and Manassas, Virginia; Elk River and Minneapolis, Minnesota; Mount Prospect, Illinois; London and Oxfordshire, UK; and outside Paris, France.
On its website, the company also lists planned future developments in Queretaro, Mexico; Rio di Janeiro, Brazil; Milan, Italy; Amsterdam, Netherlands; and Frankfurt, Germany.
"We have to celebrate the arrival of each investment," said governor Tarcísio de Freitas. "[This is] the company's biggest undertaking in the Southern Hemisphere and we are very honored that this investment is taking place in the State of São Paulo and in Paulínia."