The average time it takes for a chip to be delivered has increased to 20.2 weeks, Susquehanna Financial Group found.
The increase of eight days over the previous month is the longest wait time since the company began tracking the time in 2017.
Since Covid-19 began, the world has grappled with a lengthy semiconductor shortage.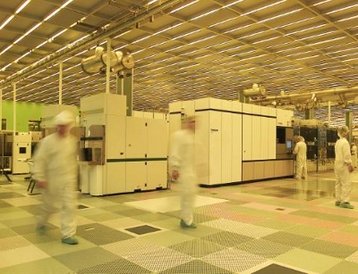 The pandemic itself was first to blame as factory shutdowns played havoc on supply chains. Then came the sudden shift in consumer consumption habits - demand for home IT boomed, as did that for cloud technologies.
At the same time, some companies pulled back from buying chips, presuming the national shutdowns would dampen demand - most notably the automotive industry, which wildly misjudged how demand for cars would change, and has been playing catchup since. That sector alone forecasts $100bn in lost sales for the year due to missing out on chips.
Adding further pressure was a series of unrelated crises - a fire at a Japanese semiconductor fab, a climate change induced storm in Texas, an accidental cable cut, and the spectre of a growing drought in Taiwan.
Each added to supply difficulties. And yet, semiconductor production has never been so high - virtually every fab is operating at capacity, producing more chips than ever before.
But the industry is not well suited to sudden shifts in demand. Given the complexity of the product, it takes years and billions of dollars to set up a chip factory - and many billions more to keep it competitive.
The current chip shortage has pushed governments around the world to get serious about semiconductor manufacturing, an industry that has steadily shifted to Taiwan and TSMC.
That company, the world's largest contract manufacturer of semiconductors, has pledged to spend $100 billion on expanding production over three years (as well as a Japanese facility, and a Chinese site, and potentially a European operation).
South Korea has promised to spend as much as $451 billion, while SK Hynix has promised $106bn. The US is putting in $52bn. The EU wants to double production. Intel is getting into the contract fab game with a $20bn expansion, and may spend another $20bn in Europe.
But such projects will take years to come into fruition - by which point the current pandemic demand may have waned. This could mean that production capabilities will spike just as demand drops.
"These major investments could lead to overcapacity and inefficient investment allocation," Lillian Li, vice president and senior credit officer at Moody's, told Fortune.
Among the consequences of the chip shortage, tax revenues have been hit at the world's largest data center hub in Loudoun County, Northern Virginia. Hyperscale data center operators have been filling their data centers with servers more slowly, resulting in lower property taxes for the County.