Loudoun County, Northern Virginia, the home of the world's largest concentration of data centers, is facing a funding gap due to lower-than-expected tax revenue from those facilities.
The total value of servers and other equipment in Loudoun County data centers was $10.1 billion, instead of a forecast $11.2 billion - which wiped $60 million in tax revenue from the County's budget, according to Loudoun Now, reporting on data given to the County finance committee. Staff believe the shortfall may have been due to chip shortages or other supply chain issues caused by the Covid-19 pandemic.
This story has been updated with input from Buddy Rizer, Loudoun Economic Development Executive Director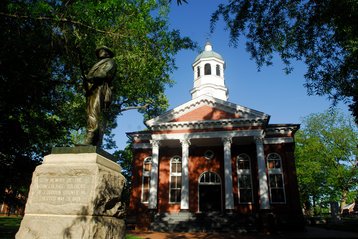 Loudoun figures down
Data centers are still growing fast in Loudoun, but Loudoun looks like being tripped up this year because the revenues are growing slower than forecast. The amount of tax it gets is based on how many servers are installed in the data center buildings, and the rate of installation has stumbled, because data center operators have taken longer to fit their facilities out, and kept older servers running longer, according to Loudoun Now.
Slow fit-outs hit tax revenue hard because the equipment in the buildings is assessed for tax according to a value which depreciates quickly: in the first year, it is assessed at 50 percent of the purchase price, and this figure falls rapidly.
Loudoun looks like losing more than 10 percent of the property tax revenue from data centers, which is a big issue in a County whose economy is very heavily reliant on its status as a world data center hub. Property taxes are the main source of County income from data centers and, according to the County's FY 2022 budget, data center property tax for 2021 is due to bring in $550 million, roughly a third of the County's total tax income - and a quarter of the County's total budget.
As Caleb Weitz, assistant finance director, pointed out, the shortfall makes a cut of less than three percent of the revenues, but the County will have to make cuts or issue bonds or borrow money to balance the books.
Finance committee Chairman Matthew Letourneau said the County has been working hard to predict data center tax revenue in order to be able to spend it effectively in the year it arrives: "We're in a little bit of an unenviable spot. We worked really hard to accurately predict our data center revenue and then use more of it, only to find ourselves now in the position where we ended up overestimating for reasons that are understandable."
There are worrying signs for the future, with Weitz warning that the effects may continue. It is expected that servers will have a longer lifespan in future, as new equipment is not speeding up as rapidly as silicon manufacturers approach process limits
"I think it's really too early to tell until we see at least next year's tax levy, and maybe the tax year 2023 levy, to be able to sort out what was COVID noise versus what was changes in the industry," Weitz said, according to Loudoun Now. "What I think I can confidently say is, it's definitely a mixture of both."
Buddy Rizer, Loudoun Economic Development Executive Director, put it down to the shift to hyperscale operators like Microsoft, Amazon, and Google, who are building new facilities in advance, and filling them gradually as demand grows. He told Loudoun Now that forecasting is difficult for the anomalously gigantic hub at Loudoun: "We're way out in front of everybody else, so we don't have anything to point to, you know, where there's a test case somewhere else."
If the number of servers in Loudoun is really going to increase at a slower rate in future, it may be a problem in years to come, but this may be a single-year bump. In the 2022 financial year, Loudoun's budget breaks out data center property tax revenue as a separate line item for the first time - and also seems to have predicted a specially large growth in revenues from the sector: The 2022 figure of $550 million is 40 percent up from the 2021 figure, which was $395 million ... and that figure included taxes on non-data center computer.
Responding to DCD's request, Buddy Rizer said: "We've seen 35 percent growth year after year, and this year it was 'only' 19 percent - which is still damn good! So any suggestion that we are not growing is just not right. Most places would take 19 percent growth - especially in a year of Covid. We added a ton of new square footage, but the facilities were not fully fitted out yet. I think Covid had a lot to do with that, a slower refresh cycle had a lot to do with that. I think it is going to work out just fine. We'll probably be a little more conservative in future. "