A fire broke out at a Renesas Electronics Corporation semiconductor factory on March 19, 2021.
The fire, which started in the clean room, was extinguished after 5 1/2 hours. There were no casualties, and no damage to the building frame.
300mm wafer production at the N3 Building has been halted.
Making the global semiconductor shortage even worse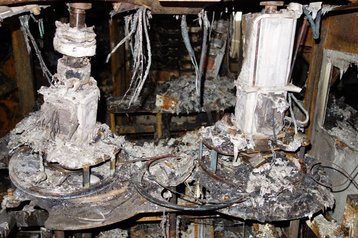 The fire broke out on the first floor of the N3 Naka Factory, in Hitachinaka, Ibaraki Prefecture at 2:47 am local time. It was extinguished at 8:12 am.
An issue with plating equipment was to blame - casing of the equipment and the plating tank have a relatively low resistance to heat, and the equipment ignited due to overcurrent. Why the overcurrent happened is yet to be determined.
Some utility equipment was damaged, including the pure water supply and the air conditioning. About two percent of the fab's manufacturing equipment was damaged. The area burned totaled 600 sq m (6,460 sq ft), around 5 percent of the entire clean room.
"We would like to give our sincerest apologies to neighboring residents, customers, partner companies, relevant authorities and all those involved for the trouble," the company said.
The fire - which comes just weeks after an OVH data center burned down - is expected to exacerbate an already difficult global semiconductor shortage.
About two-thirds of the affected production were automotive chips. Car companies previously idled plants due to limited chip supplies, reducing the output of vehicles.
The damage is expected to halt production for at least a month, but some of the lost production is expected to be taken up by other fabs due to Renesas' diversification efforts following the 2011 Tohoku earthquake and tsunami. In addition to the cost of replacing equipment, the company expects to lose 17 billion yen ($156m) a month due to the reduced production.
300mm wafer production was also impacted this year when Texas storms and power cuts forced Samsung to shut its plant.