The Senate has approved a huge science and technology investment bill, aimed at competing with China.
One of the largest industrial bills in US history, the US Innovation and Competition Act (USICA) pledges $250 billion in R&D-related funding across key tech sectors like artificial intelligence, lithium batteries, robotics, and quantum computing.
Core to the legislation is $52bn in semiconductor funding, which comes as the world faces a global chip shortage - and after decades of US chip manufacturing decline.
The bill, which is backed by President Joe Biden, will now head to the Democrat-controlled House.
All about China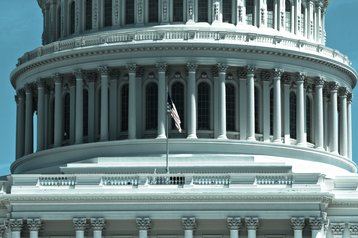 Among the other aspects of USICA, $10bn will be spent on building R&D "technology hubs" across the US, in cities outside of the primary coastal locations where tech companies dominate.
"That's one of the most major and significant pieces of legislation we passed in a long time, which is going to have a huge effect on the future of the American economy and American jobs," Senator Chuck Schumer said.
"It's the largest investment in scientific research and technological innovation in generations. It sets the United States on a path to lead the world in the industries of the future."
USICA builds upon Schumer's proposed Endless Frontier Act, co-sponsored by Republican Senator Todd Young.
That act was more aggressive - while USICA will boost the National Science Foundation's budget by 30 percent (~$2.5bn) and fund a $29bn new science directorate to focus on applied sciences, Endless Frontier had been set to spend $100bn on the science directorate.
But Republicans withheld their votes to end debate on the bill, causing it to be reworked as the smaller USICA effort.
USICA has also been criticized, with independent Sen. Bernie Sanders initially voting against part of the bill that would authorize $10 billion to be spent on centibillionaire Jeff Bezos' Blue Origin so it can take part in NASA's Project Artemis. NASA as a whole only has a budget of around $23bn.
Sanders also tried to add language to the bill that would have given the federal government equity interest in exchange for semiconductor grants and aid. Republicans, meanwhile, unsuccessfully tried to remove language that would see semiconductor contractors paid at least prevailing wages.
The $52bn in proposed chip spending could lead to 7-10 new semiconductor fabs, US Commerce Secretary Gina Raimondo claimed last month. She said the government grants would lead to an overall "$150bn plus" spending spree from federal and state governments, as well as the private sector.
$39bn would go to production and R&D incentives, while $10.5bn would be spent on the National Semiconductor Technology Center, National Advanced Packaging Manufacturing Program, and other R&D programs.
A long road ahead
But USICA will still have to pass through the House, where it could see further changes or delays, before reaching President Biden's desk. Among potential House concerns are that it focuses too much on emerging technologies, and not on climate change, cyber security, or other major concerns of today.
"We are in a competition to win the 21st century, and the starting gun has gone off," Biden said in a statement.
"As other countries continue to invest in their own research and development, we cannot risk falling behind. America must maintain its position as the most innovative and productive nation on Earth. I look forward to working with the House of Representatives on this important bipartisan legislation, and I look forward to signing it into law as soon as possible."
The bill would form part of Biden's wider $2.25 trillion-over-a-decade infrastructure pitch, the American Jobs Plan. But that, too, has seen Republican pushback.
The GOP countered with a $568bn infrastructure plan, over five years. It would increase investments in roads and bridges, but cuts out much of the public transport, manufacturing, R&D, climate change, and elderly care aspects of Biden's plan. While it opposes rolling back 2017 GOP tax cuts or adding to the national debt, it suggests taxing electric cars.
At the end of May, Biden returned with a $1.7tn counteroffer, cutting back road and bridge funding, and dropping $180bn in R&D, much of which would have gone to the Department of Energy. It keeps some funding for clean energy, removing lead pipes from drinking water systems, and support for long-term care workers.
This month, Biden said he had abandoned negotiations with Republicans over infrastructure as the latest offer "did not meet the essential needs of our country." He is now working with a bipartisan group led by Republican Sen. Mitt Romney to develop yet another compromise package.
With only 50 seats in the Senate, Democrats have a hard time passing bills, especially with Sen. Joe Manchin refusing to ax the filibuster, and voting against many Democratic bills.
Bipartisan efforts have struggled - USICA has proven a rare semi-success, thanks to a joint fear of China. Another option for Democrats is budget reconciliation, where they could pass a bill through the Senate with just 50 votes (and the VP's vote), instead of 60.
This was used to pass Biden's $1.9 trillion Covid-19 relief package, as well as the Republican's 2017 tax plan. But it has certain restrictions under the Byrd Rule, namely that the primary purpose of the bill passed using the method must be to affect the federal deficit.