Brookfield Infrastructure Partners and DigitalBridge are both bidding to acquire Compass Datacenters.
Citing 'people familiar with the matter,' Reuters reports the two companies are "battling it out" to acquire Compass.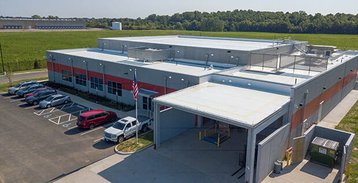 A deal could value the company at more than $5.5 billion, including debt.
Brookfield and DigitalBridge are leading opposing bidding consortia in the auction for privately held Compass, with an outcome expected by next month.
The three companies declined to comment to Reuters.
Founded in 2011, Compass currently operates or is developing around 16 data center sites across the US, Europe, and Israel. The company also has a modular facility offering. The company has plans to develop an 11 million sq ft data center campus in Virginia.
Compass is backed by RedBird Capital Partners, Ontario Teachers' Pension Plan, and Azrieli Group.
The Deal reported that Compass was exploring a sale in February, with the company having started the process in October 2022.
Citing TMT Finance data, The Deal reports that the company expects to post an EBITDA profit of $85 million in 2023.
Brookfield and DigitalBridge both have significant data center holdings and have made billion-dollar deals in the space before.
Investment giant Brookfield recently acquired European data center firm Data4 in a deal that reportedly valued the company at around €3.5 billion ($3.77bn).
The company also jointly owns data center ventures in India (BAM Digital Realty) and Latin America (Ascenty) with Digital Realty, and also owns DCI Data Centers in Australia/New Zealand. On its website, Brookfield says it owns some 50 data centers globally, along with more than 163,000 tower & rooftop sites and some 22,000km of fiber.
Digital infrastructure investor DigitalBridge owns stakes in multiple data center firms including Vantage, Switch, DataBank, AIMS DC, AtlasEdge, Expedient, Scala, LEDC, and Landmark Dividend. It took Switch private last year in an $11 billion deal in partnership with IFM.
Brookfield's acquisition of Data4 is the largest M&A deal in the data center space so far in 2023. This year also saw Aligned close on its 2022 acquisition of Brazilian operator Odata, reportedly for around $1.8 billion. Manulife recently acquired Serverfarm, but terms of the deal weren't shared.
Meanwhile, global operator Cyxtera is currently seeking a buyer, while Global Switch has been looking for a new owner for more than a year. Any deals for the two companies could each be valued in the billions.
KKR and Global Infrastructure Partners' $15 billion deal to buy CyrusOne in 2021 still ranks as the largest-ever M&A deal in the sector.