Data center firm BAM Digital Realty has broken ground on its first facility in India.
The company, a joint venture between Brookfield Infrastructure and Digital Realty, this week announced that construction of a data center in Chennai is underway and on track to open later this year.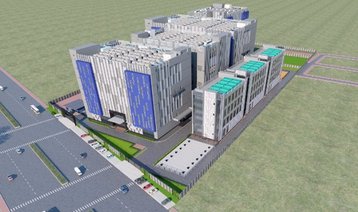 The first building on the new campus MAA10, will offer 20MW of capacity. At full build-out, the 10-acre campus at Ambattur Industrial Estate will offer 100MW of capacity.
Seema Ambastha, CEO of BAM Digital Realty, said: "Our campus in Chennai is the beginning of our journey in India. We are committed to supporting the burgeoning digital ecosystem of the country with our state-of-the-art facility and Digital Realty's global standards of excellence in service through world-class infrastructure, cutting-edge solutions, and proven experience of operating 300+ data centers globally."
Digital Realty and Brookfield launched the 50:50 joint venture in July 2021 with aims to build and operate facilities in "multiple Indian metros."
The companies paid $30 million for a 10-acre plot in early 2022. In August 2021, Brookfield acquired a 30-acre land parcel in Navi Mumbai for Rs 600 crore ($81m) from real estate developer K Raheja Corp, and reportedly plans to build a data center on the site.
Arpit Agrawal, managing director, head of infrastructure, India & Middle East, Brookfield Infrastructure Group, said: "With the launch of our first data center, we start our journey to support the Digital India vision of the Indian government aimed at data inclusivity for all. We are excited to showcase our collective world-class development expertise to the Indian market and to be the data infrastructure provider of choice for our customers, commencing in Chennai, with further expansions planned across the country."
Serene Nah, managing director and head of Asia Pacific, Digital Realty, added: "I'm excited about the development of our first data center in India, a fast-growing and important market. I look forward to MAA10 becoming part of the Digital Realty global data center network, broadening our global footprint to deliver the value of PlatformDIGITAL to our customers globally and in India."
Digital Realty and Brookfield Infrastructure also both own Latin American data center firm Ascenty, which has more than 250MW of capacity across 30 facilities in operation or development in Brazil, Chile, and Mexico.