Vodafone has lowered its outlook for the full year, and announced plans to cut more than €1 billion ($1bn) in costs by the start of its 2026 financial year.
Shares in the company were down by as much as eight percent following the latest financial report from the company.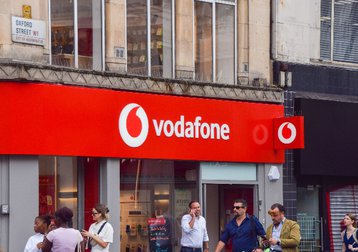 Vodafone didn't specifically say how the money will be saved, but the Evening Standard reports that some jobs could be cut as part of the savings.
In a statement, Vodafone Group chief executive Nick Read said: "We are taking a number of steps to mitigate the economic backdrop of high energy costs and rising inflation. These include taking pricing action across Europe, whilst at the same time supporting our most vulnerable customers and driving energy efficiency measures across the business. We are also announcing today a new cost savings target of €1+ billion focused on streamlining and further simplifying the Group."
The operator has adjusted its earnings guidance to €15bn ($15.6bn)-€15.2bn ($15.8bn), down from €15-€15.5bn. Vodafone reported revenue was up two percent for H1 FY23m to €22.9bn ($23.8bn), with operating profit up 12 percent to €2.9bn ($3bn).
Vodafone noted first-half service revenue declines in Germany, Spain, and Italy. Germany, which is the Group's biggest market and responsible for 30 percent of overall revenue, saw a decline in service revenue due to a slump in its fixed and TV businesses.
However, its UK business was able to offset some of these declines, with service revenue up 7.6 percent, as UK overall revenue hit €3.4bn ($3.54bn), while the rest of Europe and Vodacom Group also performed well.
Last week, Vodafone announced it sold off some of its Vantage Towers unit, creating a new joint venture with KKR and Global Infrastructure Partners (GIP) in the process. The deal could net Vodafone a maximum of €7.1 bn ($7.1bn), although this is dependent on the take-up in the voluntary takeover offer and subject to GIP and KKR raising further equity before closing to increase their stake in the JV to 50 percent.
In the UK, Vodafone is also in advanced talks with domestic rival Three UK, of CK Hutchison, over a potential merger.
The company has been no stranger to consolidation, after recently acquiring Portuguese operator Nowo from MasMovil, while it exited the Hungarian market completely, selling its Hungarian business unit for $1.8bn in August.
Vodafone has recently sold off its Egyptian unit to Vodacom (in which it owns a large stake) and is reportedly in talks to sell its Ghana business to Telecel Group, and previously sold off some of its operations in New Zealand, Malta, and Qatar, and has held discussions to sell its remaining 21 percent stake in Indian infrastructure firm Indus Towers.