Vodafone has confirmed that discussions over a merger deal with Three UK are advancing, with hopes to reach an agreement by the end of the year.
As first reported by Sky News, negotiations are said to be progressing after ramping up in recent weeks.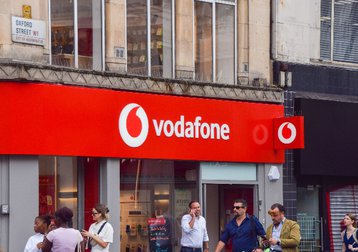 A merger deal would see Vodafone and Three's customer bases combining for around 27 million customer connections. It's estimated that the merger could be worth between £12 billion to £15bn ($13.4bn to $16.8bn).
In a statement, Vodafone said the envisaged transaction would see Vodafone owning 51 percent of the business, with CK Hutchison owning the remaining 49 percent of the combined business.
"By combining our businesses, Vodafone UK and Three UK will gain the necessary scale to be able to accelerate the rollout of full 5G in the UK and expand broadband connectivity to rural communities and small businesses," said a Vodafone statement in an RNS this morning.
"The merged business would challenge the two already consolidated players for all UK customers and bring benefits through competitively priced access to a third reliable, high quality, and secure 5G network throughout the UK."
Meanwhile, Virgin Media O2 boasts 47 million broadband and mobile customers after its official merger went live in June 2021. BT and EE have around 35 million connections.
Any deal would likely be scrutinized by the UK's telecom industry regulator, the Competition and Markets Authority (CMA). Sky News noted that industry sources expect the CMA would have to launch a Phase-II merger inquiry to any potential deal.
Both parties have long spoken of consolidation plans, with Three UK nearly merging with O2 in a £10.45bn ($11.7bn) deal in recent years. The move was blocked by the CMA back in 2016 after it cited concerns around competition being damaged for consumers.
Vodafone has recently looked to slim down its business, with its chief executive Nick Read coming under pressure in recent months from Vodafone's shareholders due to share prices dropping. The company has recently acquired Portuguese operator Nowo from MasMovil.
The operator sold its Hungarian business unit for $1.8bn in August, and has recently sold off its Egyptian unit to Vodacom (in which it owns a large stake) and is reportedly in talks to sell its Ghana business to Telecel Group.
Vodafone has also previously sold off some of its operations in New Zealand, Malta, and Qatar, and has held discussions to sell its remaining 21 percent stake in Indian infrastructure firm Indus Towers.
Vodafone Group is also looking to sell a stake of its Vantage Towers business unit, with several potential buyers reportedly lining up bids.
Meanwhile, French tycoon Xavier Niel recently secured a 2.5 percent stake in Vodafone. Niel is keen on pursuing consolidation opportunities.
Voda-3 merger 'No surprise'
The latest reports have come as 'no surprise' to CCS Insight director consumer and connectivity Kester Mann, who has long monitored this situation.
Speaking to DCD he said: "Confirmation of a potential tie-up between Vodafone and Three comes as no surprise - the two companies have made no secret of their interest to consolidate.
"The leading motivation to join forces is scale. In telecommunications, the most successful companies tend to be the largest; bulking up would offer many synergies and cost-saving opportunities. Under the status quo, it's hard to see either operator growing enough organically to get close to challenging BT and Virgin Media O2 for size in the UK."
Mann expects that regulation could be a potential hurdle, noting that some may argue it will encourage investment, while those against will be worried it could drive up prices, as the UK moves from four operators to three.