Vantage Data Centers has broken ground on data center campuses in Berlin, Germany and Warsaw, Poland.
The campuses are part of Vantage's $2 billion European expansion plan, which has already seen the company open facilities elsewhere in Germany and in Wales.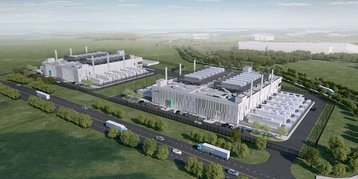 In Germany, the 250,000 sq ft (24,000 sqm) BER1 campus, located in Brandenburg Park, will be comprised of two 16MW buildings. The first phase, scheduled for completion in early 2022, will include 8MW of IT capacity.
In Poland, the 390,000 sq ft (36,000 sqm) WAW1 campus will also comprise two buildings. The first facility will include 16MW of capacity and the second facility 32MW of capacity. The first phase of development is due to deliver 8MW by 'early 2022'.
"The groundbreakings of Berlin and Warsaw are yet another testament to Vantage's rapid global growth and industry-leading time-to-market strategy," said Antoine Boniface, president of Europe at Vantage Data Centers. "In the past six months alone, Vantage's significant progress of our greenfield developments in Berlin, Warsaw, Zurich, and Frankfurt has proven that we are prepared to deploy premier hyperscale facilities at industry-leading speed in order to best serve the needs of our customers."
Both facilities will use outside air economization for cooling and will offer customers renewable energy options. BER1 will have the ability to connect into district heating schemes to reuse waste heat and also feature on-site solar energy generation for non-critical areas.
In March the company announced plans to build an 80MW data center in Newport, Wales. The 24,000 sq m (260,000 sq ft) facility with ten data halls is reportedly being developed for a single customer, as an addition to the campus oeprated by NGD (Next Generation Data) in the former LG Electronics factory for ten years before being bought by Vantage in 2020.
Vantage opened a 15MW data center in Frankfurt, Germany in November 2020. The facility, which could expand to to 650,000 sq ft (60,000 sqm) and support 55MW when fully built out, was originally under development by Etix Everywhere, which Vantage acquired the previous February for an undisclosed sum.
The company plans to open a campus later this year in Zurich, Switzerland, and has previously said it had plans to develop another hyperscale campus in Madrid, Spain.