T-Mobile Poland has signed a new five-year colocation contract with one of Poland's agriculture agencies.
The telco announced this week that the Agency for Restructuring and Modernization of Agriculture (ARMA) has decided to extend its data center services contract with the company for another five years.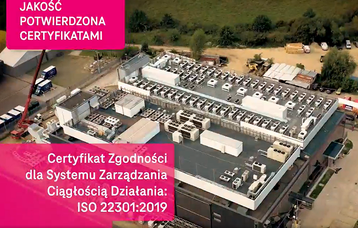 The contract covers the lease of colocation space, a backup office, and storage rooms in T-Mobile's data center in Piaseczno, south of Warsaw.
The contract is valued at PLN 6 million ($1.39m) and covers the lease of 250 sqm (2,690 sq ft) of colocation space, 40 sqm of a backup office, and 55 sqm of storage rooms in the Piaseczno facility.
T-Mobile says it has half a dozen data processing centers in the country across Warsaw, Krakow, and Wrocław. It opened a new 4,300 sq m (46,200 sq ft), three-story facility at Szlachecka in December.
ARMA was established in 1994 to support the development of agriculture and rural areas, and as the executor of the agricultural policy, closely cooperates with the Ministry of Agriculture and Rural Development.
Orange opened a new Polish data center in Warsaw in October. Data4, Vantage, 3S Group, and Netia have all either announced or opened new data centers in Poland this year, while Google recently opened a Polish cloud region in Warsaw.