T-Mobile has launched a new data center in Warsaw, Poland.
The Deutsche Telekom-owned telco said the new 4,300 sq m (46,200 sq ft), three-story facility at Szlachecka offers more than 1,700 sq m (18,300 sq ft) of colocation space across eight data halls. The company said it has also secured a large business customer in the financial industry, which has taken 250 sqm (2,700 sq ft). The new facility reportedly has a PUE of 1.3.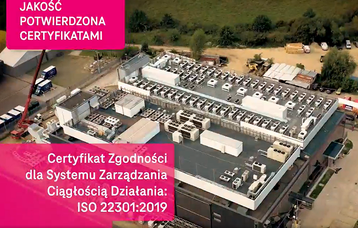 "Our transformation from a telecommunications operator to a comprehensive technology company, would not be possible without the continuous development of cloud technologies and investments in modern data processing centers," said Andreas Maierhofer, president of T-Mobile Polska. "I am very pleased that as one of the largest cloud service providers in Poland, we can support our partners in the rapid digital transformation."
T-Mobile says it has half a dozen data processing centers in the country across Warsaw, Krakow, and Wrocław. In 2018 the company expanded its Krakow facility – built in 2005 for its own needs – and opened a new 400 sqm (4,300 sq ft) colocation space. In 2019 a T-Mobile data center in Annopol in Warsaw caught fire. No one was hurt and employees were evacuated but services and its call center were brought down for a time.
Orange opened a new Polish data center in Warsaw in October. Data4, Vantage, 3S Group, and Netia have all either announced or opened new data centers in Poland this year, while Google recently opened a Polish cloud region in Warsaw.