ST Telemedia Global Data Centres (STT GDC) has opened a new data center building in Singapore.
STT Defu 3 is the third building at its Defu campus in the east of the city-state.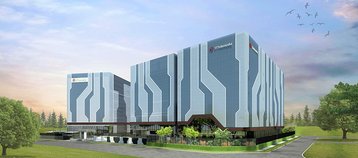 "STT Defu 3, our newest data center facility in Singapore to date, is now live!" the company said on LinkedIn this week. "STT Defu 3 is the latest addition to our flagship Defu data center campus, built to maximize the advantages of seamless connectivity on-campus, centralized monitoring, and pathways for easy access throughout the campus."
The company first announced plans to construct Defu 3 in April 2021. The seven-story facility at Defu Avenue 1 has an IT load capacity of 15MW, taking the total capacity at the Defu campus to 40MW. Spanning 156,000 square feet (14,500 square meters), the new facility has gone live on time.
The company first began work on a Defu Lane data center campus in 2015, with a second building constructed in 2017. STT GDC operates a total of eight data centers in Singapore.
2022 has seen STT GDC announces plans for a new data center in Seoul, South Korea; buy a stake in Globe Telecom's data center spin-out alongside Ayala Corp; and sell a minority stake in its UK Virtus unit to Macquarie Asset Management.
The Defu campus expansion has been completed just as a moratorium on new developments in Singapore is coming to an end.
A temporary pause in data center development was introduced in 2019. No new data centers were allowed, but existing projects and already-authorized expansions were allowed to be completed. Singapore's Minister for Trade and Industry announced in January 2022 that the moratorium would shortly be lifted, but with specific limitations to make growth sustainable.
In July, the country's Infocomm Media Development Authority (IMDA) and Economic Development Board (EDB) have launched a pilot scheme for new applications, with the aim of allowing the "calibrated and sustainable growth" of data centers in Singapore.
More in Construction & Site Selection