Filipino telco Globe Telecom formed a new data center joint venture from its data center portfolio, with ST Telemedia Global Data Centres (STT GDC) and local conglomerate Ayala Corp. (AC) taking a stake in the new business.
Under the agreement, both STT GDC and Ayala will subscribe to new shares in KarmanEdge, Inc., a 100 percent owned subsidiary of Globe that will house the carved-out data center business.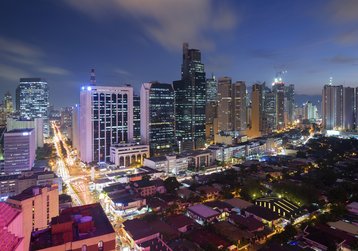 Globe will remain the largest shareholder with a 50 percent ownership, followed by STT GDC with 40 percent, and Ayala taking up the balance.
"The Philippines is an underserved market with huge demand for data center services. Together with STT GDC's deep expertise and experience in developing, owning, and operating data centers globally and AC's significant business reach, relationships in the country and in the region, we believe that this Joint Venture will be well-positioned to become the leader in the data center space in the Philippines," said Ernest Cu, Globe president and CEO.
The deal will reportedly value KarmanEdge at more than $350 million. Globe will receive proceeds of $100 million from the transaction with the remaining capital injected to be utilized by the business for future expansion & growth.
"We are thrilled to partner with Globe as we expand our global data center platform into the Philippines, further bolstering our strong presence within Asia. With Globe's well-established digital solutions platform and our data center expertise, we are confident that through our partnership, we can build a leading data center platform in the country," said Bruno Lopez, president & group CEO, STT GDC
Globe has been operating data centers since 2001 through its wholly-owned subsidiary Innove Communications, Inc (formerly Islacom). The company operates at least three data centers in Manila and one in Davao City.
The companies said the new KarmanEdge unit has the potential to expand by up to 100MW capacity in the mid to long term.
Rumors that Globe was looking to sell its data center business surfaced in September 2021, with the company saying in November that it was in 'advanced discussions' to form a data center joint venture with STT GDC.
Fernando Zobel de Ayala, Ayala Corporation president and CEO, added: "We are excited to support this initiative and leverage our wide relationships to maximize opportunities for the venture. We believe we have found in STT GDC the right partner to help us scale up and play a major role in the development of the data center industry in the country."
Founded during the Spanish colonial rule in the 1830s, Ayala is the country's oldest and largest conglomerate. Originally a distillery, today the group has holdings in retail, real estate, banking, telecommunications, water infrastructure, renewable energy, electronics, automotive, and healthcare.
Ayala owns around 14 percent of Globe, alongside SingTel's 21 percent stake (owned by Temasek Holdings, which also owns STT GDC) and Asiacomm which owns 54 percent (and itself is owned by Ayala and Singtel).