SpaceX's Starlink has signed a new distribution deal with Elcome International for maritime customers.
Elcome, a provider of maritime systems and integration solutions, is providing SpaceX's Starlink Internet services to its global maritime and mobility customers.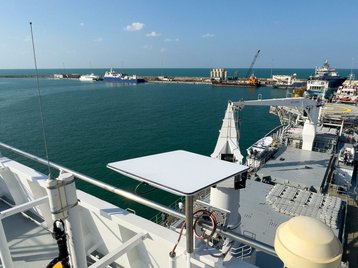 The company will provide installation, integration, and field support to customers using Starlink. Elcome said it has already implemented multi-antenna Starlink arrays on two superyachts catering to more than 100 crew and guests simultaneously.
"We are so excited to bring the benefits of Starlink to our customers," said Jimmy Grewal, Elcome's executive director. "It's not just about fast Internet, but the opportunity for us to implement real-time remote monitoring and autonomy solutions for these customers in ways that were not previously possible. Also consider the benefit to crew members who will now be able to better stay in touch with family and friends while out at sea."
Based in Dubai, Elcome was founded in 1970 and is a major technology system integrator for the maritime industry.
Starlink has signed distribution deals with maritime communications firm Marlink – which also has a deal in place with OneWeb – as well as cruise liner providers Royal Caribbean and Hurtigruten.
Other wholesale agreements signed by Starlink include T-Mobile, US Air Force, Speedcast, Hawaiian Airlines, and private plane provider JSX. Until last year, Starlink's only B2B deal had been a backhaul agreement with KDDI in Japan.
By comparison, OneWeb has signed distribution with more than two dozen firms globally to date.