Low Earth Orbit satellite firm OneWeb has selected New Space India as its new launch partner.
The first launch with New Space India is expected later in 2022 from the Satish Dhawan Space Centre (SDSC) SHAR, Sriharikota.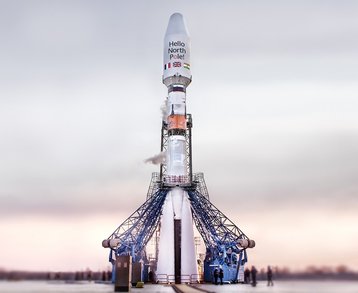 New Space India Limited is the commercial arm of the Indian Space Research Organisation, India's space agency. Terms of the agreement – including number of satellites expected to launch under the deal – were not shared. Chris McLaughlin, chief of government, regulatory affairs and engagement at OneWeb, told SpaceNews the company plans to use India's Geosynchronous Satellite Launch Vehicle (GSLV).
Sunil Bharti Mittal, OneWeb Executive Chairman, said: "This is yet another historic day for collaboration in space, thanks to the shared ambition and vision of New Space India and OneWeb. This most recent agreement on launch plans adds considerable momentum to the development of OneWeb's network, as we work together across the space industry toward our common goal of connecting communities globally."
In the wake of Russia's invasion of Ukraine, Russian space agency Roscosmos said it was limiting access to its Soyuz rockets – the type used by OneWeb's original launch partner Arianespace. The agency then demanded the UK government divest its stake in OneWeb.
OneWeb had been due to launch 36 satellites in early March via a Soyuz rocket from a Russian-owned launchpad in Baikonur, Kazakhstan. In response to Roscosmos' actions, the satellite firm announced it was no longer launching its satellites from the facility.
The company has also signed a launch agreement with rival satellite firm SpaceX to launch satellites from the latters' rockets from the US.
SpaceX's Starlink for private planes
In other satellite news, SpaceX this week signed a deal to provide in-flight Wi-Fi to private plane provider JSX from its Starlink satellites.
"JSX is proud to be the first air carrier to adopt SpaceX Starlink internet inflight, free for every Customer onboard," JSX tweeted this week.
JSX CEO Alex Wilcox told CNBC the agreement with SpaceX covers service on up to 100 airplanes. JSX currently has 77 30-seat Embraer jets in its fleet.
SpaceX's Starlink service on JSX flights is pending regulatory approval, but Wilcox said he expects it to be available by the fourth quarter, if not earlier. Currently, a Starlink aircraft antenna is installed on a JSX airplane for testing purposes.
SpaceX has shipped around 250,000 terminals, but has signed relatively few distribution deals compared to OneWeb; it signed a deal with KDDI to provide remote backhaul in Japan last year.