The US Air Force Special Operations Command has awarded SpaceX a $1.9 million contract to trial Starlink Internet services in Europe and Africa for one year.
The contract noted that Starlink was the only service that was able of meeting its needs, as it covered all the necessary territory, and had shown itself capable of working amid a warzone. "Starlink is the only Low Earth Orbit (LEO) satellite network provider that is currently being used in a contested environment: Ukraine," the contract stated.
SpaceX provided some Starlink dishes to Ukraine's government for free - but was quietly paid by the US government to deliver thousands more.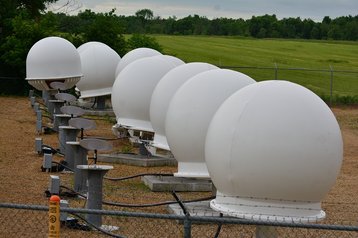 The new contract for hardware and services will support military airlift units based at Ramstein Air Base, Germany. It also covers satellite terminals and Internet services at fixed sites and by mobile users who need to connect devices to the Internet, across US military bases.
"Starlink is the only LEO constellation communications company that currently provides this commercial satellite solution with services to Europe and Africa," the contract notes.
Starlink currently has 2,287 satellites in orbit, but that is planned to grow to 12,000 - and potentially even 42,000. LEO rivals Amazon Kuiper, OneWeb, and Telesat currently cannot provide services in the required areas.
It adds that OneWeb was the best current alternative, but noted: "OneWeb can only provide service north of 50 degrees north latitude starting in November 2021. This does not cover the majority of the EUCOM area of responsibility and does not cover any of the AFRICOM area of responsibility."
The US military operates around 750 military bases across 80 sovereign nations, some near active conflicts.
"AFRL has discovered that in a contested environment, LEO constellations are much more resilient to signal jamming and also provide the low latency required to support tactical missions," the contract states.