The vandalism against a number of fiber cables around Paris earlier this year was likely a coordinated and purposeful attack, but no group has stepped forward to take responsibility.
In April this year, a number of fiber optic cables across France appeared to be intentionally cut, causing Internet outages and slowdowns in cities across the country.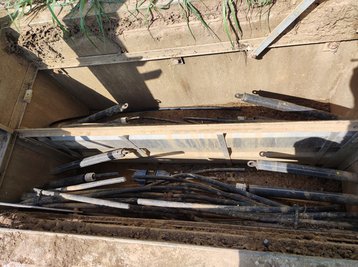 Cables connecting Paris to the cities of Lyon, Strasbourg, and Lille were physically cut in several places in what looked like a coordinated attack. French media reported major Internet outages in cities including Paris, Lyon, Bordeaux, Reims, and Grenoble.
Wired reports that French Internet companies and telecom experts familiar with the incidents say the damage was more wide-ranging than initially reported and extra security measures are needed to prevent future attacks. In total, around 10 Internet and infrastructure companies—from ISPs to cable owners—were impacted by the attacks.
In the space of around two hours, cables were surgically cut and damaged in three locations around the French capital city—to the north, south, and east—including near Disneyland Paris.
"The people knew what they were doing," says Michel Combot, the managing director of the French Telecoms Federation. "Those were what we call backbone cables that were mostly connecting network service from Paris to other locations in France, in three directions."
"The cables are cut in such a way as to cause a lot of damage and therefore take a huge time to repair, also generating a significant media impact," added Nicolas Guillaume, the CEO of telecom firm Nasca Group, which owns business ISP Netalis, one of the providers directly impacted by the attacks. "It is the work of professionals."
The cuts were clean, suggesting power tools were used, and in some places had sections of cable removed. Whoever conducted the attacks would have had to know the exact locations of the cable ducts and been informed about the targets—the incidents were also carried out in the dark.
"It implies a lot of coordination and a few teams," said Arthur PB Laudrain, a researcher at the University of Oxford's department of politics and international relations who has been studying the attacks.
No groups or individuals have claimed responsibility for the damage, and French police have not announced any arrests related to the damage.
Free 1337 and SFR suffered some initial outages because of the attacks. Lumen, Zayo, and DE-CIX all confirmed to Wired that their equipment or services were caught up in the attack.
Thomas King, the CTO of DE-CIX, said the dark fiber it rents within cables was damaged.
"Our cables were cut in two distinct locations around Paris," added Karen Modlin, Zayo's director of corporate communications.
A December 2021 investigation by environmental news outlet Reporterre, as noted by CyberScoop, documented more than 140 attacks against 5G equipment and telecom infrastructure in France. In March 2020, fiber optic cables used for Orange's network were intentionally cut in the Paris region.
"I fear that these attacks, in France and elsewhere in the world, will happen again," Combot said.
Conspiratorial claims about 5G have led to attacks on tower masts; last year a New York Police Department intelligence report warned that conspiracy theorists and far-right white supremacist groups are "increasingly targeting critical infrastructure to incite fear, disrupt essential services, and cause economic damage with the United States and abroad."
In early 2020, the Department of Homeland Security wrote in an intelligence report seen by ABC that "conspiracy theories linking the spread of Covid-19 to the expansion of the 5G cellular network are inciting attacks against the communications infrastructure globally and that these threats probably will increase as the disease continues to spread, including calls for violence against telecommunications workers."
Earlier this year a suspected arson attack against Openreach's network infrastructure in Staplehurst, UK, brought thousands of homes and businesses offline. In 2020, a British man set fire to a Vodafone 4G mast, which he believed was a 5G tower that gave people coronavirus.
In Australia, a Telstra cell tower in Mullumbimby, Australia was set on fire in March following local fears that 5G's electromagnetic energy harms babies and interferes with local bees, insects, and birds (it does not).