A number of fiber optic cables across France have seemingly been intentionally cut, causing Internet outages and slowdowns in cities across the country.
Cables connecting Paris to the cities of Lyon, Strasbourg, and Lille were physically cut in several places.
"Internet cables have been cut in the Ile-de-France region, which is affecting the landline and mobile network. We are in touch with operators who are working to restore service," Minister for digital affairs Cedric O said in a tweet.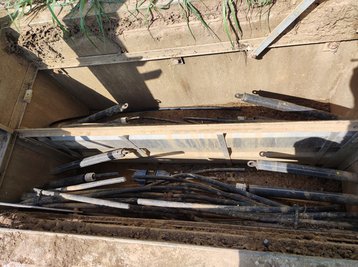 French media reported major internet outages in cities including Paris, Lyon, Bordeaux, Reims and Grenoble.
French ISP Free said there had been "multiple malicious acts" on its fiber infrastructure during the night and the morning, including in Reims and Graveline. It included several pictures of cut cables.
It's unclear at the moment who might be behind such a seemingly wide-scale and coordinated act of vandalism. Although they happened days after a fiercely contested Presidential election, Cedric O did not suggest sabotage and spokespeople have declined to comment on any motive.
SFR said it had experienced "several fiber cuts" in the Paris region and in Lyon in southeast France.
"SFR's technical teams are fully mobilized," the company said in a statement, warning that repairs may take some time because key 'backbone' cables were targeted.
Le Parisien reported underground cables had been damaged in Fresnes-en-Woëvre (Meuse), Meaux and Souppes-sur-Loing (Seine-et-Marne) and Le Coudray-Montceaux (Essonne).
"It's not the usual localized cut due to a blow from an excavator from the site next door, the cables were cut on both sides in order to complicate the repairs," one unnamed operator told the publication. "The urgency is to resolder everything, this represents tens of thousands of small fiber optic cables."
"This sort of incident at this scale never happens," one security source told AFP on condition of anonymity. "It's the first time and we don't know who it is for the moment."
Operators Bouygues Telecom and Orange said they were not affected. In March 2020, fiber optic cables used for Orange's network were intentionally cut in the Paris region.
Conspiratorial claims about 5G have led to attacks on tower masts; last year a New York Police Department intelligence report warned that conspiracy theorists and far-right white supremacist groups are "increasingly targeting critical infrastructure to incite fear, disrupt essential services, and cause economic damage with the United States and abroad."
In early 2020, the Department of Homeland Security wrote in an intelligence report seen by ABC that "conspiracy theories linking the spread of Covid-19 to the expansion of the 5G cellular network are inciting attacks against the communications infrastructure globally and that these threats probably will increase as the disease continues to spread, including calls for violence against telecommunications workers."
"Violent extremists have drawn from misinformation campaigns online that claim wireless infrastructure is deleterious to human health and helps spread Covid-19, resulting in a global effort by like-minded individuals to share operational guidance and justification for conducting attacks against 5G infrastructure, some of which have already prompted arson and physical attacks against cell towers in several US states."
Earlier this month, a suspected arson attack against Openreach's network infrastructure in Staplehurst, UK, brought thousands of homes and businesses offline. In 2020, a British man set fire to a Vodafone 4G mast, which he believed was a 5G tower that gave people coronavirus.
In Australia, a Telstra cell tower in Mullumbimby, Australia was set on fire in March following local fears that 5G's electromagnetic energy harms babies and interferes with local bees, insects, and birds (it does not).