French data center firm OVHcloud has ordered a quantum computer for its own use.
The system was designed by French company Quandela, with the 2-qubit MosaiQ computer powered by a photonic processor. Delivery is expected in the autumn of this year. A purchase price wasn't disclosed.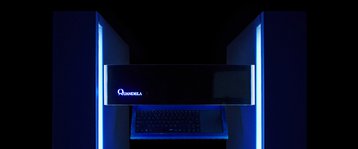 OVH said its goal is to provide the company's research and development department with the tools to experiment with a Quantum Processing Unit (QPU) based machine for various use cases. It is unclear if OVH will offer customers access to the quantum system through a portal in the future.
"With this new purchase, OVHcloud is delighted to become Europe's first Cloud Service Provider to order a photonic quantum system. What can better embody the 'innovation for freedom' purpose we serve than the totally disruptive field of quantum computing?" said Miroslaw Klaba, R&D director at OVHcloud.
OVH didn't say where the system will be housed. The company has two R&D locations in Gdansk and Wroclaw, though Klaba is based in Lille, France.
Valerian Giesz, CEO & co-founder of Quandela, added: "We are very grateful for the confidence OVHcloud places in us with this order. This is the first QPU order for our startup, and it represents a significant achievement after having been the first European startup to connect a quantum computer to a public cloud. This first version will deliver a computing power of 2 qubits and will be easily upgradable with our modular approach."
Founded in 2017, Paris-based Quandela has previously raised around €15 million to develop its quantum photonics platform, which delivers quantum light photons to quantum processing units. The system is supercooled to up to -265 C but can reportedly slot into a standard 19" rack system.
Quantum companies often offer access to their on-premise quantum systems through web portals and also through the public cloud. IonQ operates its own data center in Maryland, while its systems are also accessible through the likes of Azure and Google Cloud.
IBM operates a number of Quantum machines out of a data center in New York that it has made available through a portal but has also signed agreements to install a number of on-premise facilities in Europe, Asia, and North America. It is also installing more machines at IBM facilities in various markets including Japan and Canada.
UK quantum computing company Oxford Quantum Circuits (OQC) has previously announced plans to place its quantum computers in Cyxtera and Equinix colocation facilities in the UK and Japan respectively. The companies will make the systems available to customers of each colo firm through their respective fabric offerings.