IBM has delivered a quantum computer to Japan in partnership with the University of Tokyo.
The IBM Quantum System One is now operational for researchers at both scientific institutions and businesses in Japan, with access administered by the University of Tokyo.
The company described the system as 'Japan's most powerful quantum computer' but didn't detail how many qubits the system has.
Though not detailed in its latest press release, IBM has previously said the QSO would be housed in an IBM facility in Japan and owned and operated by the firm.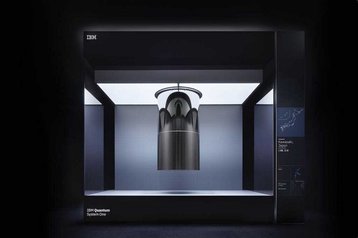 "IBM is committed to the growth of the global quantum ecosystem and fostering collaboration between different research communities," said Dr. Dario Gil, SVP and Director of IBM Research. "Together, we can take major steps to accelerate scientific progress in a variety of fields."
IBM and the University of Tokyo formed a 'Quantum partnership' in 2019, and year announced the Quantum Innovation Initiative Consortium. With members including Hitachi, Keio University, Sony, Sumitomo Mitsui Trust Bank, Toshiba, and Toyota, the consortium aims to accelerate quantum computing research and development activities in Japan.
"In the rapidly changing field of quantum technology, it is extremely important not only to develop quantum technology-related elements and systems, but also to foster the next generation of human resources in order to achieve advanced social implementation on a global scale," said Teruo Fujii, President of the University of Tokyo. "Our university has a broad base of research talents and has been always promoting high-level quantum education from the undergraduate level. Now, we will further refine the development of the next generation of quantum native skillsets by utilizing IBM Quantum System One."
In March, the company announced it would install its first private sector on-premises quantum computer in the US at the Cleveland Clinic medical center. In June the company delivered its first quantum computer in Europe to the Fraunhofer-Gesellschaft outside Stuttgart, Germany.
First announced in 2019, the System One is enclosed in a nine-foot sealed cube, made of half-inch thick borosilicate glass to contain the required super-cold temperatures. IBM says its largest quantum computer is currently capable of containing 65 qubits, and the company plans to release its 127-qubit IBM Quantum Eagle processor sometime in 2021. It hopes to unveil its first 1,000+ qubit systems by 2023.
Prior to installing on-premise systems, IBM was allowing companies to access more than 20 quantum systems through a cloud-based web portal. The company says 150 organizations currently have access to its quantum fleet via the cloud.