Quantum computing company IonQ has opened a data center to house up to 10 of its systems.
The 23,000 square foot (2,100 sq m) facility will help with the company's hardware R&D, while the platforms will be made available to researchers across the US. It was partly funded by a $5.5 million investment by the University of Maryland.
Next to the data center, IonQ has opened some new office space with 10 conference rooms and two clean rooms.
Quantum computing gets one step closer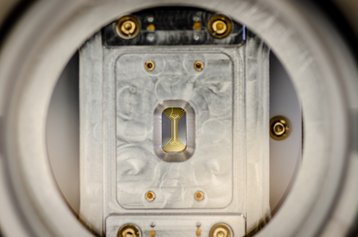 The Quantum Data Center in Maryland's Discovery District will feature onsite generators and battery backups, backup quantum computers, and redundant point of presence connections to the Internet2 backbone, which is used by researchers and government.
"Our Quantum Data Center solidifies IonQ's position in leading the race to build quantum computers able to tackle problems not yet solvable," said Mahsa Dornajafi, VP of finance and operations at IonQ.
"This dedicated space will empower our employees and researchers with the best equipment and resources needed to continue advancing the field of quantum computing."
The company is working on three generations of quantum computers in parallel, and is trying to reduce the size of the systems so that more than 10 can fit into its data center in the future.
Earlier this month, IonQ unveiled its most powerful system, with "32 perfect qubits" with low gate errors, giving it an expected quantum volume greater than 4,000,000.
Quantum computing is hard to benchmark, with each company working in this nascent field pointing to different aspects of their systems that stand out. IonQ claims its new system is the world's most powerful quantum computer, but rivals like Google, IBM, and D-Wave may beg to differ.
"The new system we're deploying today is able to do things no other quantum computer has been able to achieve, and even more importantly, we know how to continue making these systems much more powerful moving forward," IonQ co-founder and chief scientist Chris Monroe said at the time.
The new system follows a June funding round that saw the company bring in $29m from Lockheed Martin, Robert Bosch Venture Capital GmbH (RBVC), and Cambium. Amazon Web Services, one of the few hyperscalers not publicly working on its own quantum computer, previously invested in the company.