NTT has launched a new data center in Johannesburg, South Africa.
Located at 21 Sterling Road in the Samrand area of the city, the Johannesburg 1 Data Center will provide 12MW of capacity across 6,000 sqm (64,600 sq ft) once fully built out. Phase one offers 3,000 sqm (32,300 sq ft) and 6MW.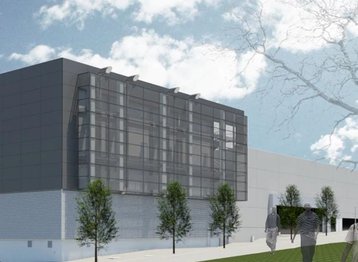 The new facility uses a closed-loop chilled water system with air-cooled chillers, meaning that the water running through the cooling systems isn't evaporated.
"We're incredibly proud to be investing in Johannesburg and extending our global data center footprint to South Africa. The country forms a significant part of NTT's growth strategy as we continue to support Africa's digital transformation. The opening of Johannesburg 1 will contribute towards the economic growth and social development of the region, as our clients shape the country of tomorrow," said Florian Winkler, CEO of Global Data Centers EMEA, NTT Ltd.
Announced in 2020 under NTT's Dimension Data, JOH1 was originally due to open in April this year.
"Our presence in Africa is underpinned by the significant digital change we're seeing across the continent. Companies providing new digital services need data center space with high power density, global connectivity, carrier neutrality, cloud network access, and on-site support to ensure they can continue to grow," added Michael Abendanon, Head of MEA, Global Data Centers EMEA, NTT Ltd.
Dimension Data currently operates 11 data centers with a total IT capacity of up to 10MW across Africa. Earlier this year one of those legacy facilities in Johannesburg suffered an outage after a cooling failure.
2022 has seen NTT launch facilities in Germany, Spain, Indonesia, and India, expand existing locations in the UK and Switzerland, and announce plans for new data centers in Vietnam and Japan. It recently broke ground on a sixth data center in Ashburn, Virginia, and a sixth in Cyberjaya, Malaysia.
More in Construction & Site Selection