NTT has opened a new data center in London and plans to expand one of its existing sites in the city.
NTT Global Data Centers this week said it opened its 7th London data center site in Hemel Hempstead – known as Hemel Hempstead 4 – in December 2021, delivering half its full capacity in phase 1, and will add another 9,600 sqm of space and 24MW of capacity when fully built out. Work began on the data center in September 2020.
The company also said it was also planning investments to expand its capacity at its London 1 facility in Dagenham, East London that was opened in 2020.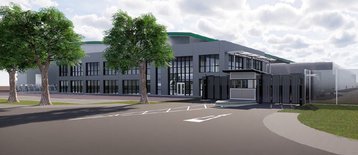 The company's London data centers currently deliver more 53MW of capacity, and could see the company more than 120MW at full build-out. NTT said Hemel Hempstead 4, like all its UK facilities, would be powered by 100 percent renewable energy.
Masaaki Moribayashi, president and board director at NTT Ltd. said: "As the third-largest data center provider in the world, NTT continues to significantly accelerate our investment into the London and UK market as a key global location. This investment provides scalable data center and connectivity infrastructure for our clients' digital transformation needs."
NTT currently operates 18 data centers across the European region with over 160,000 sqm (1.72 million sq ft) of floorspace but is on an expansion tear. Between now and summer 2023, the company aims to increase its available IT load in EMEA by over 40 percent. It has upcoming launches of data centers in Madrid and Johannesburg as well as additional buildings in Vienna and across Germany.
This month saw NTT announce that the first construction phase of its second data center building at its Zurich campus has been completed. The expansion provides an additional 4,500 sqm (48,400 sq ft) of IT space and 10MW of IT capacity. The company broke ground on the expansion in August 2021.
In January, the company announced it is was developing an additional 4,300 sqm of data center space and 7.3MW of capacity at its Frankfurt 1 site that will be completed this summer.
The first two buildings at its Berlin 2 campus will offer a total of 9,600 sqm (103,300 sq ft) and 24MW when they come online in March 2022.
NTT broke ground on a 3,000 sqm (32,300 sq ft) expansion to its Vienna campus in Austria in October 2021. Work is still ongoing.
Its Johannesburg 1 facility in South Africa is due to come online later this year. Work on the Madrid facility in Spain began in November 2020; it was originally scheduled to go live in Q3 2021.