A new company is planning to develop a ~1.5 million sq ft (140,000 sqm) data center campus powered directly by a nuclear power station in Connecticut.
First reported by The Day and CT Examiner, NE Edge is requesting that Waterford Town officials consider a Host Municipality Agreement with the company to host data centers at the Millstone Nuclear Power Station in New London County.

"In cooperation with Dominion Energy, we are planning a two-building data center project at their Millstone site on Rope Ferry Road in Waterford," the company said. "We are committed to providing Waterford with over $231 million dollars over 30 years as fees in lieu of the personal and real property taxes, which are exempted for data centers under the Connecticut law."
NE Edge aims to build two hyperscale data centers on the Millstone site, using power directly from the Dominion facility in a 'behind the meter' agreement.
Both buildings would be two-stories sat on around 25 acres; the first totaling 1.14 million sq ft (105,900 sqm) across both floors, the second totaling 428,000 sq ft (40,000 sqm). The facilities would use closed-loop air conditioning to save on water use. The company is hoping break ground in mid-2024 and complete construction by mid-2025.
"Dominion Energy is exploring this opportunity with NE Edge to help respond to a critical data infrastructure need in our state," Dominion Energy's Millstone site vice president Michael O'Connor said. "The data center's need to find a suitable site and the availability of space on Millstone Power Station property make this a potentially beneficial partnership for Dominion Energy."
The 2.1GW Millstone site launched in 1971; it is the only nuclear power plant in Connecticut and the only multi-unit nuclear plant in New England.
"We are encouraged to see our largest taxpayer reinvest in our community," said Waterford First Selectman Rob Brule. "This particular collaboration will undoubtedly benefit every taxpayer in the Town of Waterford, not only today, but for generations to come."
State Sen. Martha Marx, D-New London, whose district includes Waterford, added: "This project will provide long-term benefits for Waterford and its neighbors, infusing new opportunities for business growth into the area,"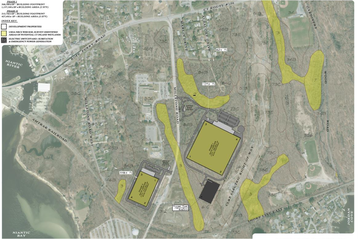 NE Edge co-founder Thomas Quinn has a long history of attempting to develop data centers in Connecticut.
He was formerly president and CEO of Verde Group, LLC — a firm that attempted to build large data centers in Connecticut. The company secured site plan approval in Montville in 2019 but never broke ground.
In the wake of new data center tax cuts in Connecticut introduced in 2021, he then launched GotSpace Data Partners, which was proposing to develop data centers across the state in Wallingford, Groton, Norwich, Griswold, and Bozrah. However, Bozrah and Wallingford eventually looked to prevent developments in the towns, partly due to concerns around the company's own stability and commitment to the projects.
Quinn later said there were issues with an investor attempting a hostile takeover, and so then launched NE Edge. He again proposed to develop two 250,000 square foot (23,225 sqm) data centers in Groton, less than 15 miles from the Millstone site. Town officials eventually decided to cease discussions with the company about the project.
The company is proposing to build a 980,000 square foot (91,00 sqm) building in Bozrah, another town where GotSpace was aiming to develop facilities.
NE Edge is subject to a lawsuit from what remains of GotSpace; the suit demands a ridiculous $30 billion and includes a number of claims about hacking and government conspiracy.
GotSpace still lists plans to develop six data centers across two campuses in Groton and three buildings at one campus in Bozrah, with more planned across the state.
NE Edge co-founder and manager George A. McLaughlin, III is the founder and president of the McLaughlin Brothers law firm in Boston, Massachusetts, and an investor in real estate.
Colocating data centers at nuclear power stations is historically uncommon, but a number of projects have appeared in recent years.
Last month Talen Energy subsidiary Cumulus Data completed construction on the first building at its nuclear-powered Susquehanna data center campus in Pennsylvania. First announced by DCD in July 2021, the 1,200-acre campus draws power from Talen Energy's neighboring 2.5GW nuclear power station in Luzerne County, Pennsylvania, the Susquehanna Steam Electric Station (SSES). Around six facilities – a combination of hyperscale and cryptomining facilities – are planned on the 475MW campus.
Blockchain firm Standard Power is also exploring nuclear-powered data centers. The company is powering its blockchain mining center in Coshocton, Ohio, with energy from an Energy Harbor nuclear power station, and recently announced plans to build another facility – potentially reaching up to 900MW – at Energy Harbor's Beaver Valley nuclear facility in Shippingport, Pennsylvania.
Cryptomining firm Lake Parime, which recently called in administrators and was sold, developed a 10MW cryptomine facility at a nuclear power station in Ohio that went live in November 2022.
Last year Microsoft also signed a power purchase agreement (PPA) with Ontario Power Generation in Canada to procure renewable energy, including from nuclear sources.