Local officials in the town of Groton in Connecticut have voted to end negotiations with a developer about a proposed data center.
The Day reports that the Town Council voted late Tuesday to discontinue "all efforts to pursue a municipal host fee agreement" with data center developer NE Edge LLC "for properties generally located between Hazelnut Hill Road and Flanders Road, south of I-95, with prejudice."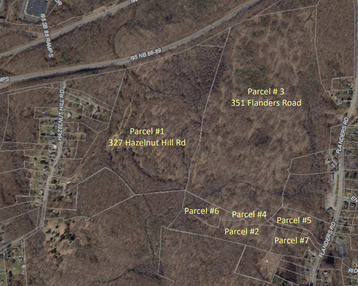 The council voted 5-1, while two abstained.
Thomas Quinn, formerly CEO of GotSpace, formed a new company called NE Edge LLC in December, and was requesting the town council approve a Host Municipality Fee Agreement to allow his company to build two 250,000 square-foot (23,200 sqm) data centers on several contiguous wooded land parcels.
However, local residents and officials had expressed concerns over the project. This week Councillor Aundré Bumgardner said he "heard a resounding no from the public" and made a motion that added the verbiage "with prejudice," which he said meant "indefinitely" or "for good." He thanked the public for helping him do his homework on data centers.
NE Edge last week sent a memorandum that requested the town withdraw the agreement that was under consideration and instead allow NE Edge time to reach out to neighbors and hold a public meeting next month, then submit a revised proposal. However, the council proceeding with the already scheduled meeting to vote on whether to end negotiations with NE Edge.
One potential resolution prepared for Tuesday's meeting had referenced that the council determined that "351 Flanders Road and surrounding properties are not a suitable location for a data center," but Town Manager John Burt said the town had received correspondence from the property owner's attorney questioning whether the council can determine a certain property is not suitable for a particular use when that's typically under the Planning and Zoning Commission's purview. Burt said there wasn't time to have a full review by the town's attorneys, but they said it would be safer to use a resolution without mentioning the property use.
The town of Groton had previously approved a Data Center Host Municipality Agreement with GotSpace Data Partners, LLC for certain properties off of Route 117. The new proposal was separate but nearby to GotSpace's once-planned development. In the wake of new tax cuts in Connecticut introduced last year, GotSpace Data Partners LLC was proposing to develop data centers across the state in Wallingford, Groton, Norwich, Griswold, and Bozrah.
However, Bozrah and Wallingford eventually looked to prevent developments in the towns, partly due to the company's own stability and commitment to the projects. Wallingford Town Attorney Gerald Farrell said in November that "GotSpace has some internal issues going on within itself."
At a February meeting, Quinn told the Town Council that he was no longer associated with GotSpace. He said GotSpace took on an investment partner last January who later defaulted on a promise of funding.
"When we called the default, he attempted a hostile takeover," Quinn explained.
Quinn was also formerly president and CEO of Verde Group, LLC — another firm that attempted to build large data centers in Connecticut. The company secured site plan approval in Montville in 2019 but never broke ground.
After this week's vote, Quinn said that it's "too soon to respond with next step specifics."
"We have interest in the general area for development, and we'll be looking at every option," he said.
More in Construction & Site Selection