A developer has formed a new company and is looking to develop two data centers in Groton, Connecticut, after his previous company proposing similar developments ran into difficulties.
The CT Examiner reports that Thomas Quinn, formerly CEO of GotSpace, formed a new company called NE Edge LLC in December, and is requesting the town council approve a Host Municipality Fee Agreement to allow his company to build two 250,000-square-foot data centers on several contiguous wooded land parcels south of I-95 and west of Flanders road.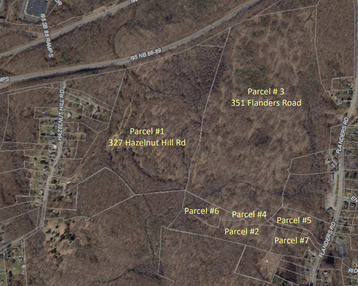 The town of Groton had previously approved a Data Center Host Municipality Agreement with GotSpace Data Partners, LLC for certain properties off of Route 117. The new proposal is separate but nearby to GotSpace's once-planned development.
The facilities would be built to Tier IV standards. The campus would require 115 acres and his group had proposed a land swap for a town-owned 17-acre parcel in exchange for part of a 56-acre parcel. Quinn said his group did not own the land, but had it under contract for a period of nine months with extensions for an appeal period if needed.
"We can do it without this swap but we'd like to have it and we think it works better for everybody once we look at the package," he said.
In the wake of new tax cuts in Connecticut introduced last year, GotSpace Data Partners LLC was proposing to develop data centers across the state in Wallingford, Groton, Norwich, Griswold, and Bozrah.
However, Bozrah and Wallingford eventually looked to prevent developments in the towns, partly due to the company's own stability and commitment to the projects. Wallingford Town Attorney Gerald Farrell said in November that "GotSpace has some internal issues going on within itself."
At a Feb. 8 Committee of the Whole meeting, Quinn told the Town Council that he was no longer associated with GotSpace. He said GotSpace took on an investment partner last January who later defaulted on a promise of funding.
"When we called the default, he attempted a hostile takeover," Quinn explained.
Quinn told Town Council members he is no longer the subject of any of the legal actions related to GotSpace.
"We're not part of any legal action from that entity. And we're ready completely to move forward now," he said. Quinn said his group was working with a joint venture partner at the "hyperscale level," and has already created CAD plans for the site in Groton.
Quinn was formerly president and CEO of Verde Group, LLC — another firm that attempted to build large data centers in Connecticut. The company secured site plan approval in Montville in 2019 but never broke ground.
During the meeting, Councilor Portia Bordelon said that while she supported data centers, she was not convinced it was perfect for the town.
"Looking through the investor's eyes, it's perfect for you. But my goal here is to make sure it's perfect for Groton, perfect for the town of Groton, perfect for the constituents and the community that I love, perfect for the future generations and my water supply that I drink every day," she said.
Bordelon added she had not seen Quinn complete a project anywhere, which raised questions about moving forward, and wanted to see one of Quinn's projects developed and then see the impacts of the project before he proceeded with building in Groton.
"It's strictly process, transparency, liability and the financial cost that it can create for the town," she said. "I have been looking at the track record in front of me and it has not been to the level of rigor that I initially anticipated. I don't think Groton should be the forerunners on that and take the liability and the risk."
The council is meeting tonight to discuss the proposals further.
Last year Connecticut state governor Ned Lamont signed a new data center tax exemption bill which provides sales and use tax as well as property exemptions on qualifying data centers, as well as an exemption for financial transactions taxes that the state may impose in the future, for periods of 20 or 30 years terms, depending on the size and location of the data center investment.
More in Construction & Site Selection