Macquarie Data Centres has opened its Intellicentre 3 East data center in Sydney, Australia.
The official opening marked the on-time, on-budget completion of the 16MW data center at the Macquarie Park Data Centre Campus located in the Sydney North zone. The project received an initial investment of more than AU$85 million (US$63.9m).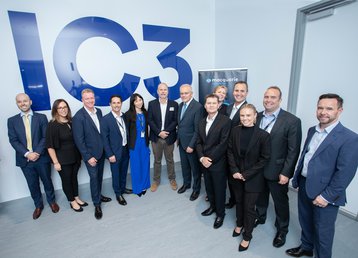 Announced in 2019, Macquarie completed external work and signed a 10MW lease with a customer for the facility in 2020.
The Macquarie Telecom Group company had an opening ceremony attended by Australian Prime Minister Scott Morrison, who took part in a threat hunt simulation.
"Increasingly, our economy and our security depend on each other. This campus is about both – a mighty $200 million data center, Australian owned, Australian operated, one of the most trusted and certified in Australia, with a team of highly trained engineers delivering up to 50 megawatts of data storage capability," said Morisson.
The company is already working on its next facility at the site. The Intellicentre 3 Super West data center will be a 32MW facility, the largest on the campus in New South Wales, bringing the site's total capacity to 50MW.
"We're privileged to have the Prime Minister here today. It epitomizes the importance of secure, sovereign global scale data centers – the very foundation on which the Australian digital economy is built," said Macquarie Data Centres CEO David Hirst.
Last year the company opened Intellicentre 5 (IC5) data center; a 1.5MW government bunker data center in Canberra designed to store and manage highly classified government data including Department of Defence data.
More in Colocation & Wholesale