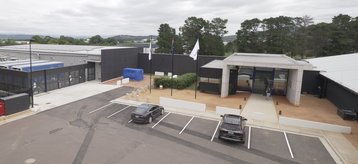 Managed by Macquarie Government, the 'bunker' facility is certified to store and manage highly classified government data including Department of Defence data. Construction was completed in time despite Covid-19 restrictions.
"Data and cloud demand has skyrocketed as the pandemic continues to bring forward years' worth of IT and digital transformation projects1," said David Hirst, group executive, Macquarie Data Centres. "Ensuring that data remains secure, sovereign and within Australia's borders is vital to protecting our national security and privacy interests – this facility embodies that need in every way."
The build includes four kilometers of underground electrical conduit, 15 tons of copper in the main cables. It is fitted with a five-ton solar rooftop installation, with the company claiming a power usage effectiveness (PUE) ratio of 1.35.
Macquarie first announced the new facility in June 2020, and worked in partnership with Australian construction company Manteena. Once completed, the Canberra campus comprising the IC4 and IC5 bunkers, will be 4MW.
A number of Australian Government departments, including Defence, are undergoing data center migrations away from Global Switch facilities after Chinese steel giant Shagang took a controlling stake in the company. However, the department extended its tenure in Global Switch Sydney facility by up to five years after the migration plans were delayed due to the scale of the undertaking. Prime Minister Scott Morrison says that Defence has already moved its classified information to a 'dedicated facility.'
"Government agencies cannot risk having all their data eggs in one basket," said Aidan Tudehope, MD at Macquarie Government. "Canberra needs greater diversity in its balance of data storage, protection and management, and the Australian Government wants greater competition in the local market that supports Government agencies. IC5 is not just welcome, but necessary infrastructure for Government agencies that are increasing their cloud and IT needs."