Australian Prime Minister Scott Morrison has defended the Department of Defence's delayed migration from Global Switch's Sydney data center.
The Prime Minister said the department's 'most sensitive' data has already been moved out of the Switch-owned facility in Ultimo, Sydney, and relocated to a dedicated facility, and that work is ongoing to move sensitive and unclassified data.
For more breaking data center news, features, and opinions, be sure to subscribe to DCD's newsletter
Defence joins Aussie Gov Global Switch exodus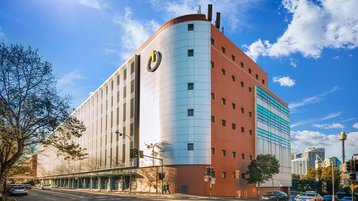 The Defence department made plans to make migrate from the Switch facility into its own data center in 2017 after Chinese steel giant Shagang made its first investment in Global Switch, becoming a potential security risk. The original plan – estimated to cost AU$200m (US$151m) – was to leave by the time the contract expired in 2020. However, the department extended its tenure in the facility in an AU$53.5 million (US$41.2 million) deal in October last year after the migration plans were delayed due to the scale of the undertaking, with the new contract running until September 2025.
"Defence has migrated its most sensitive data to a purpose-built data center," Morrison told Parliament this week. "Consistent with the whole-of-government hosting strategy, Defence data migrations of sensitive ICT data and assets was completed ahead of schedule and under budget prior to the expiration of the original Global Switch Ultimo lease in September 2020."
"Defence is now progressing work consistent with the strategy to migrate less sensitive and unclassified data assets to an alternative data center. I'm further advised that Defence has and will continue to retain full operation and control of its data halls. Within the Ultimo data center, Defence has in place strict security arrangements, including 24/7 Defence security presence, remote CCTV monitoring and regular security audits."
Shagang is now the majority shareholder of Global Switch, and the sovereignty issue has led to a mass migration of Global Switch locations by Australian Government customers. The Australian Securities and Investments Commission last month announced plans to move out of Global Switch's Sydney-based data center, while in April 2020 the Australian Taxation Office signed a deal to move away from Global Switch's Sydney facility and into Canberra Data Centres-owned facilities.
Last year the Australian Financial Review reported that the Australian government had issued a directive requiring that agencies leave Global Switch data centers by September 2020. Affected departments reportedly included Home Affairs, Foreign Affairs and Trade, and Defence.
Morrison also said the Government has strengthened foreign investment oversight, including a national securities test requiring mandatory notification for investments in sensitive national security along with veto powers.
"No government has acted more to strengthen our foreign investment rules to protect our sovereignty than this one," he said.