A federal judge on Friday put Amazon's JEDI lawsuit on hold to allow the Department of Defense to review the major military cloud contract.
The Joint Enterprise Defense Infrastructure contract was awarded to Microsoft in October, but Amazon claims the decision was full of "egregious errors" due to "improper pressure from President Donald Trump, who launched repeated public and behind-the-scenes attacks" due to his dislike for Amazon CEO Jeff Bezos.
JEDI on pause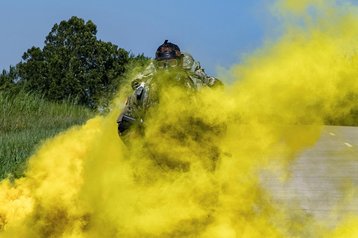 Judge Patricia E. Campbell-Smith put the lawsuit on hold until August 17 to allow the military to reconsider aspects of the decision being challenged by Amazon.
In March, Campbell-Smith said that Amazon was "likely to succeed" with at least part of its case over the contract, worth as much as $10bn over 10 years. In particular, the judge believes procurement officials erred in evaluating Microsoft's proposed offering for online storage.
"The court considers it likely that [AWS's] chances of receiving the award would have increased absent defendant's evaluation error," Campbell-Smith wrote. She added that the company will likely be able to show that this alleged error prejudiced and did material harm to the company's chance of winning the contract.
After her comments, the DoD asked to reevaluate its award - something the judge has now granted.
At the time, Amazon lawyers said that the rethink would not go far enough: "The corrective action DoD proposes fails the tests of rationality and fairness, violates the broad discretion afforded an agency for addressing a procurement impropriety, and suggests that DoD seeks to take whatever corrective action is necessary to reaffirm its prior award to Microsoft despite the material defects the Court identified and DoD has now acknowledged."
Earlier this month, the DoD's Inspector General found that awarding JEDI to Microsoft "was consistent with applicable law and acquisition standards," but admitted it was blocked by the White House from investigating Trump interference claims.