Two pro-democracy and anti-corruption groups have filed amicus curiae briefs in support of Amazon's court case claiming President Trump stopped it winning a $10bn military cloud contract.
The groups said that they were not making a judgment over whether Amazon Web Services should have won the JEDI contract, but instead said that allegations of presidential interference in federal deals due to personal animosity pose a risk to the functions of democratic government. They filed in favor of a deeper investigation, supporting Amazon's attempts to depose key government officials, including the President.
Separately, Microsoft - which was awarded JEDI in October - said in a motion to dismiss the case that Amazon was employing "sensationalist and politicized rhetoric."
Let's get political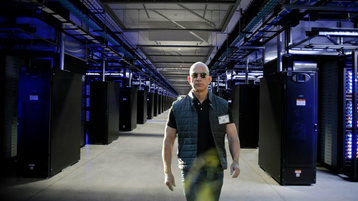 Protect Democracy, a 'nonpartisan, nonprofit organization' focused on threats to democracy, said that there were "well-founded concerns that the President of the United States - the most powerful person in our government - is using the award of a lucrative cloud computing contract critical to our national security for the purpose of punishing a perceived political enemy and quashing critical news coverage of his administration by a major media company."
Amazon alleges that the President improperly blocked its bid to run the US military's cloud services, because of a grudge against its CEO Jeff Bezos, who also owns the Washington Post.
"Protect Democracy takes no position on whether the contract should be awarded to Amazon and sides with neither party to this action," lawyers for the group said in a brief, "but submits this brief to underscore the constitutionally significant dangers that arise if a federal contract is awarded based on the president's personal preferences."
The brief continues: "Specifically, Protect Democracy supports Amazon's motion to supplement the administrative record by taking targeted discovery related to possible interference with the Department of Defense's ("DOD") decision-making process by President Trump and others in the White House."
In its own brief, the government ethics and accountability watchdog Citizens for Responsibility and Ethics in Washington (CREW), noted that "this is not an ordinary bid protest."
CREW lawyers continued: "Such allegations raise serious concerns about conflicts of interest, loss of impartiality, and unethical conduct. The issue presented by Plaintiff's motion to supplement the record is whether these allegations of impropriety may be fully investigated. CREW believes that public confidence in the integrity of the JEDI procurement process depends on such an investigation."
Calling for a deeper investigation, the brief added: "A complete record in this case is particularly important in light of other recent ethically- questionable public procurements.
"Over the last several years, President Trump has repeatedly interfered in federal procurements to promote his own personal objectives. He attempted to award a multi-million dollar federal contract to his for-profit business, Trump National Doral, for an event that he was leading; participated in decision-making related to the construction of a new headquarters for the Federal Bureau of Investigation despite a potential conflict of interest; and advocated directly for the selection of a particular company for an Army Corps of Engineers project.
"CREW is concerned that these incidents represent a pattern of disregard for ethics and procurement law in the Trump Administration. Such incidents also bolster the credibility of [the] Plaintiff's allegations of similarly improper interference by President Trump in the JEDI procurement. These well-grounded allegations deserve to be judged in light of all relevant information."
Contract winner Microsoft, however, attempted to downplay the political nature of JEDI.
"Without a compelling case on the merits of a traditional bid protest, [AWS] tries to make this case all about President Trump," the company's lawyers wrote in a brief to dismiss the case.
Amazon "has alleged zero facts - nothing - plausibly indicating that any DoD official involved in the JEDI procurement, at any level, was actually influenced by the alleged anti-Bezos statements in any way."