The Department of Defense Inspector General cleared the military's decision to award a contentious major cloud contract to Microsoft.
Competitor Amazon claimed that the JEDI contract, worth as much as $10bn over a decade, was unfairly awarded to Microsoft, due to interference by the President of the United States. The company alleges that Trump dislikes its CEO, Jeff Bezos, due to his ownership of the Washington Post.
Amazon sued the DoD last year and won an injunction in February. Last month, DoD asked the court to allow it to review the contract award.
After an investigation, the IG found that the award "was consistent with applicable law and acquisition standards," but admitted that it was unable to fully investigate White House interference "because of the assertion of a 'presidential communications privilege.'"
The IG said that it reviewed 31.2GB of e-mails to reach the decision, and interviewed several pertinent individuals - just not about communications with people working at the White House.
Innocent until proven [redacted]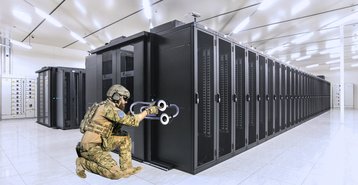 In a 317-page report, the inspector general's office found that giving the JEDI contract to a single company rather than dividing it across multiple awards was "consistent with applicable acquisition standards."
Making the contract a single award also saves a significant sum, the Procuring Contracting Officer claimed. A single task order could take up to a year to complete, with the "estimated cost of administering and executing a task order as $127,851.84 in a multiple award scenario and $2,595.71 in a single award scenario.
"Over the potential 10-year contract, estimating 4,032 task orders per year, the DoD could save in excess of $500 million in contract administrative costs under a single-award contract."
That assumes, however, that the contract would have been split into thousands of smaller contracts - while some JEDI detractors instead called for it to have been split into just a handful of still large contracts.
The report found that a Pentagon employee committed ethical misconduct, as contract detractors like Oracle alleged, for failing to disclose that he was negotiating a job with Amazon while working on JEDI.
But the IG said that the "bit player" made minimal contributions to the procurement process, and did not influence the outcome.
The report "makes clear the DoD established a proper procurement process," Microsoft spokesperson Frank Shaw said. "It's now apparent that Amazon bid too high a price and is seeking a do-over so it can bid again."
The IG report claimed that procurement officials "were not pressured regarding their decision on the award of the contract by any DoD leaders more senior to them, who may have communicated with the White House."
However, it was unable to interview White House officials - including, as Amazon had wanted, President Trump.
"Several DoD witnesses [were] instructed by the DoD Office of General Counsel not to answer our questions about potential communications between White House and DoD officials about JEDI," the IG report stated.
"Therefore, we could not definitively determine the full extent or nature of interactions that administration officials had, or may have had, with senior DoD officials regarding the JEDI Cloud procurement."
White House Counsel only allowed witnesses to provide written answers to questions where presidential communications privilege was not invoked, and that it would review any answers first.
As there were no guarantees over which questions would be answered, and the fact that "it would unduly delay the report, it would not allow for an interview and inevitable follow up questions, and it would not assure that we would be receiving full information from the witnesses. We therefore declined to proceed in this manner."
Questions about no questions
An AWS spokesperson told DCD that "this report doesn't tell us much. It says nothing about the merits of the award, which we know are highly questionable based on the Judge's recent statements and the government's request to go back and take corrective action.
"And, it's clear that this report couldn't assess political interference because several DoD witnesses were instructed by the White House not to answer the IG's questions about communications between the White House and DoD officials."
Democrat politicians were equally critical, with Representative Adam Schiff tweeting: "When he's not firing Inspector Generals, Trump is obstructing their investigations. Here, he's hiding communications about a DOD contract for Amazon, a company Trump has repeatedly tried to punish because its founder owns the Washington Post.
"The corruption is in plain sight."
Senator Jack Reed concurred, releasing a statement saying that the "report is troubling and incomplete." He said that it "also raises the specter that President Trump suddenly fired the independent DOD watchdog because of his willingness to ask tough questions."
Acting Inspector General Glenn A. Fine was fired by Trump on April 7, just a week after being named chair of the Pandemic Response Accountability Committee, overseeing the $2 trillion stimulus funds signed into law by President Donald Trump in response to the coronavirus outbreak.
It is not clear why Fine was fired, but the move came amid a host of other firings - primarily against employees involved with the impeachment trial.
"President Trump is abusing the coronavirus pandemic to eliminate honest and independent public servants because they are willing to speak truth to power and because he is so clearly afraid of strong oversight," Democratic Senator Chuck Schumer said at the time.
Screw Amazon?
Much of the case claiming the President acted against Amazon relies on public statements and tweets.
Another core element is the claim that Trump in 2018 told then-Defense Secretary James Mattis to "screw Amazon" out of a chance to bid on JEDI.
The quote came from the book Holding The Line by Mattis' chief speechwriter and communications director, Guy Snodgrass. He alleges Mattis recounted Trump's request to a small group of DoD officials, and added: "We're not going to do that. This will be done by the book, both legally and ethically." Mattis later resigned, and then was fired.
Through his attorney, Snodgrass told the Inspector General that "he stood '100%' behind the account of this incident in his book."
Mattis told that IG that before he was fired he ate lunch with President Trump about once a week when their schedules permitted it, but never talked about JEDI. He said he was aware of President Trump's "disgruntlement" with Amazon, but only due to media reports.
When specifically asked about Snodgrass' book Secretary Mattis said that he "cannot confirm" the former staff member's account and added, "I don't recall the President's words on this [JEDI]."
On whether Trump told him that he did not want Amazon to win the contract, he replied:"I don't recall that. It could have happened but I just don't recall those words.
"Again, I knew his dissatisfaction with Amazon. I mean I knew that loud and clear. I knew that before he, you know if he and I spoke on the phone about it I was already aware from early on his views of Amazon, Washington Post, and Jeff Bezos, but I don't recall us having a discussion about it."
He added: "I knew he probably wouldn't like it much if Amazon won, but that frankly wasn't my concern as long as we did it right."
Then-Deputy Secretary Shanahan told the IG that he didn't recall a meeting like the one described in the book.
Several other individuals allegedly at the meeting were asked by the IG if Mattis told them Trump had said to "screw Amazon," or if he had ever mentioned White House communications regarding JEDI. The four individuals were instructed by Agency Counsel not to answer.
Admiral Craig S. Faller was asked if he talked to staff about pressure from or communications with the White House related to the JEDI Cloud procurement, but Agency Counsel also instructed him not to answer.
As for those more directly involved in the procurement contract, most said that they were aware of Trump's dislike for Amazon due to media reports, but that it did not influence them.
The unnamed Cloud Computing Program Manager said that she "was personally involved in every aspect of the source selection," and it was "not true" that the President became personally involved in JEDI. Public statements attributed to the President "had no impact whatsoever" and "there was just no influence" on her actions. Claims that the President influenced the procurement in a way that disadvantaged Amazon was "completely ridiculous" and "almost insulting," she said.
Chris Lynch, former director of the Defense Digital Service, said that he "literally could not give a shit" about the President's public statements about Amazon and Jeff Bezos, and added that the White House had zero influence on his actions.
A section of the report appears to show that both the CCPM and Lynch were contacted by White House officials, but the section is heavily redacted.
Trade secrets
Elsewhere in the report, it is disclosed that the DoD at one point inadvertently sent confidential Microsoft documents to Amazon.
"The Inspector General's report now reveals that Amazon also received Microsoft proprietary information it should not have received or used - information that the IG states could potentially give it 'an unfair advantage in the cloud services marketplace,'" Microsoft's deputy general counsel Jon Palmer said in a blog post.
"Now that Amazon has this retained knowledge of Microsoft's proprietary information, a complete re-do can only hurt Microsoft and benefit Amazon."
Palmer claimed: "Amazon would have you believe that it lost the award because of bias at the highest levels of government. But Amazon, alone, is responsible for the pricing it offered."