Amazon is looking to depose the President of the United States in a court challenge over a $10 billion military cloud contract. The company wants testimony from the President and other officials, along with court access to documents relating to the contract.
According to the company, President Trump blocked Amazon Web Services from the Joint Enterprise Defense Infrastructure contract due to a personal animosity towards company CEO Jeff Bezos, who also owns The Washington Post.
Last year, Microsoft won the JEDI contract, but Amazon is currently trying to delay the award until its court case is completed.
Billionaire versus "billionaire"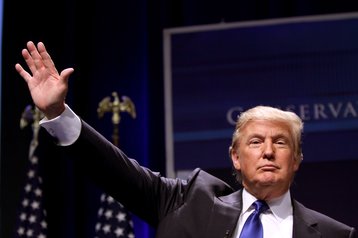 In a court filing, Amazon's lawyers said that they were looking to depose seven "individuals who were instrumental" in the JEDI source selection and "played pivotal roles" in the contract award.
Among them were Trump, former Defense Secretary Jim Mattis, and current Defense Secretary Mark Esper. Also on the list were the Defense Department's Chief Information Officer, Dana Deasy, and the chairpersons of the Source Selection Authority (names redacted), which awarded the contract to Microsoft.
"President Trump has repeatedly demonstrated his willingness to use his position as President and Commander in Chief to interfere with government functions - including federal procurements - to advance his personal agenda," an Amazon spokesperson said in a statement to DCD.
"The preservation of public confidence in the nation's procurement process requires discovery and supplementation of the administrative record, particularly in light of President Trump's order to 'screw Amazon.' The question is whether the President of the United States should be allowed to use the budget of the DoD to pursue his own personal and political ends."
The "screw Amazon" claim came from a book by Guy Snodgrass, a speechwriter for former Defense Secretary Mattis, who alleged that the President tried to get the then-Secretary to stop AWS from winning the award. Separate media reports in April 2018 claimed Trump was looking to block Amazon, and the President has repeatedly shared fabrications about Amazon costing the Post Office money.
In 2018, Axios reported on five sources who claimed the President was "obsessed with Amazon." The President then tweeted: "I have stated my concerns with Amazon long before the Election. Unlike others, they pay little or no taxes to state & local governments, use our Postal System as their Delivery Boy (causing tremendous loss to the US), and are putting many thousands of retailers out of business!"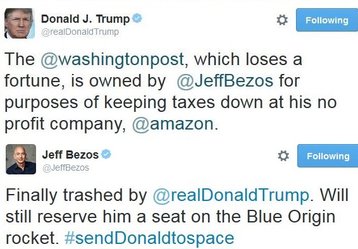 Two days later, he continued: "While we are on the subject, it is reported that the US Post Office will lose $1.50 on average for each package it delivers for Amazon. That amounts to Billions of Dollars. The Failing NY Times reports that "the size of the company's lobbying staff has ballooned," and that does not include the Fake Washington Post, which is used as a "lobbyist" and should so REGISTER. If the P.O. "increased its parcel rates, Amazon's shipping costs would rise by $2.6 Billion." This Post Office scam must stop. Amazon must pay real costs (and taxes) now!"
Later, he added: "I am right about Amazon costing the United States Post Office massive amounts of money for being their Delivery Boy. Amazon should pay these costs (plus) and not have them bourne by the American Taxpayer. Many billions of dollars. P.O. leaders don't have a clue (or do they?)!"
Amazon has invested in its own shipping infrastructure, and Trump's comments are factually incorrect: USPS is legally required to not ship at a loss, Amazon pays the same bulk rate as everyone else, and the success of the company has led to revenue growth at the post office.
A hot mess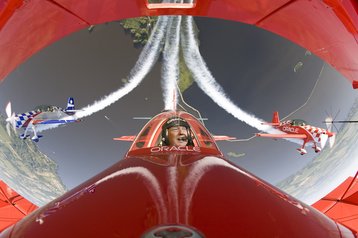 For most of the procurement process of JEDI, detractors actually focused on whether the contract was designed to favor Amazon.
Oracle, a high profile critic of the single-award contract, alleged that AWS promised lucrative jobs to two Pentagon officials involved with JEDI. It also accused AWS of a conflict of interest in hiring back a former Amazon employee, Deap Ubhi, who went to the DoD in 2016, worked on the contract, and returned to Amazon, joining AWS as a general manager in 2017.
A DoD investigation concluded there may have been "potential ethical violations" with the rehiring, but cleared AWS of creating an organizational conflict of interest. Despite the failed investigations and legal challenges, Oracle's lobbying efforts continued
Among other things, Oracle lobbyists produced a document on the JEDI saga, which eventually reached Donald Trump's desk. The document included a flowchart titled "A Conspiracy to Create a Ten Year DoD Cloud Monopoly," which includes images of Defense Secretaries Ash Carter (pictured alongside President Obama) and James Mattis, along with representations of dollar signs, arrows and a heart linking the various figures.
Among the information that Amazon hopes to elicit from its investigation are what the "specific interactions between DoD and other JEDI solicitation offerers that relate to Mr. Bezos, Amazon, AWS, and President Trump, which will develop evidence of the ways in which AWS's competitors-like Oracle--leveraged President Trump's known bias against Amazon to influence the decision-making process."
Whether the company can successfully depose the president - who was recently impeached but acquitted by the Senate - is unclear. The company admits in its filing that "a deposition of a sitting President of the United States presents unique circumstances."