Australian Edge data center firm Edge Centres is to build a new facility in Ho Chi Minh City, Vietnam, its first in the country.
The Australian Edge data center firm provides modular 'off grid' data centers powered by on-site wind and/or solar power and connected to the main grid as backup. Each facility is equipped with just under 1MW of solar infrastructure, and 48-hour battery, and UPS backup equipment, which supports 64 1kW quarter racks. The company says the sites can produce more electricity than they use.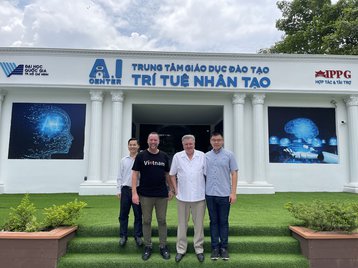 In a LinkedIn post this week, the company said it was developing a new Edge location in collaboration with the Vietnam National University (VNU) Ho Chi Minh City.
The new facility, known as EC51, will open in the next 20 weeks once works on the campus are completed.
CEO Jonathan Eaves added in his own post that development of additional sites in HCMC D1 [District 1 of Ho Chi Minh City), Danang, and Hanoi are also underway.
"Opportunities to expand at other university campuses are being explored," he said.
In April the company announced it had closed an AU$12 million (US$8.95m) Series A fundraise led by a single investor, Singapore-based Cloud Link Solutions (CLS), and was planning to deploy ten facilities across Asia.
It said at the time it was building an Edge facility – known as EC31 – in Kuala Lumpur, Malaysia, and is surveying sites in Johor, Ipoh, and Penang in Malaysia, as well as at locations in Indonesia, the Philippines, Japan, and Vietnam. EC previously announced plans to build two facilities in Japan last year.
As well as Traralgon and Bendigo in Victoria, EC has or is developing Edge locations across Australia in Grafton and Dubbo, New South Wales; Toowoomba, Cairns, Mackay, and Townsville, Queensland; and Hobart, Tasmania. In September 2021 the company broke ground on an Edge network operations center in Albury, New South Wales.
By the end of 2023, it aims to have 20 sites operational, and 40 sites operational globally by the end of 2024.
Earlier this year Edge Centres acquired fellow local Edge player DC Matrix, adding two facilities currently in development in Sippy Downs, Queensland, and on the Gold Coast, to its portfolio. 2021 also saw the company acquire weather app Snowtification from Lurado software to predict the weather.
Earlier this month Edge Centers announced plans to procure 20 small data center pods from UK firm DataQube for its US rollout. It has installed a Point of Presence (PoP) in CoreSite's One Wilshire carrier hotel data center in Los Angeles, California.