Australian Edge data center firm Edge Centres has closed a Series A funding round and is planning to roll out facilities in Malaysia and other areas within APAC.
The Australian Edge data center firm provides modular 'off grid' data centers powered by on-site wind and/or solar power and connected to the main grid as backup. Each facility is equipped with just under 1MW of solar infrastructure, and 48-hour battery, and UPS backup equipment, which supports 64 1kW quarter racks. The company says the sites can produce more electricity than they use.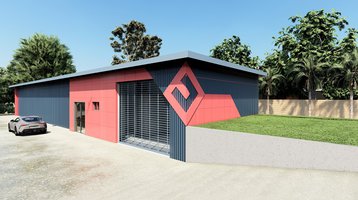 The company announced this week it had closed an AU$12 million (US$8.95m) Series A fundraise led by a single investor, Singapore-based Cloud Link Solutions (CLS).
"Partnering with CLS was a key decision for us, as now not only do we deploy Edge data centers, we have access to corresponding cable landing stations," said Edge Centres CEO Jonathan Eaves. "Edge Centres is on track to deploy ten facilities across Asia in additional markets that include Indonesia, Thailand, and the Philippines over the next 12 months, cementing it as the largest, most advanced edge data center business in APAC."
CLS director Ronnie Lim said: "As the fastest growing Edge data center company in Asia Pacific, Edge Centres is paving the digital path for 4.3 billion people. Edge data center growth is critical to the growth and rollout of 5G technology and we are thrilled that Edge Centres selected Cloud Link Solutions as the investor for its Series A."
The company also noted it is building an Edge facility – known as EC31 – in Kuala Lumpur, Malaysia and is surveying sites in Johor, Ipoh, and Penang in Malaysia, Indonesia, the Philippines, Japan, and Vietnam. EC announced plans to build two facilities in Japan last year.
The Malaysian rollout will be in collaboration with Arus Restu Sdn Bhd (ARSB), a new cable landing station operator. ARSB has a contract to build a cable landing station in Cyberjaya, Selangor, that will be part of the Myanmar, Malaysia, India, Singapore Transit (MIST) subsea cable system.
"Having a partner to localize in Asia is the key to our success," Eaves added. "We've got the building in KL and we hope to launch it in the next four weeks. Most of the equipment has already been ordered. And then we're looking for two further sites, one in Johor and one in Penang; these will be our first three Edge locations in Asia."
The MIST cable is being developed by Orient Link Pte Ltd (OLL), a joint venture between Japan's NTT Ltd, Fund Corp for the Overseas Development of Japan's ICT and Postal Services Inc, and WEN Capital Pte Ltd.
As well as Traralgon and Bendigo in Victoria, EC has or is developing Edge locations in Grafton and Dubbo, New South Wales; Toowoomba, Cairns, Mackay, and Townsville, Queensland; and Hobart, Tasmania. In September 2021 the company broke ground on an Edge network operations center in Albury, New South Wales.
By the end of 2023, its aims to have 20 sites operational, and 40 sites operational globally by the end of 2024.
Earlier this year Edge Centres acquired fellow local Edge player DC Matrix, adding two facilities currently in development in Sippy Downs, Queensland, and on the Gold Coast to its portfolio. 2021 also saw the company acquire weather app Snowtification from Lurado software to predict the weather.
Earlier this month Edge Centers announced plans to procure 20 small data center pods from UK firm DataQube for its US rollout. It has installed a Point of Presence (PoP) in CoreSite's One Wilshire carrier hotel data center in Los Angeles, California.