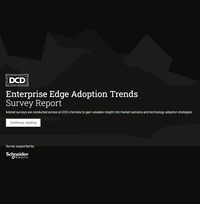 With the growing demand for lower latency, improved bandwidth efficiency, and the ability to leverage new technologies like AI and IoT, enterprise Edge deployment has been on the rise. We recently conducted a survey of data center professionals working within this area to get their view on the state of enterprise Edge adoption and how they see future deployments panning out.
Read this report to get the industry's perspective on questions such as:
What the key drivers are for deploying Edge data centers?
How well are data center Edge deployments effectively addressing business requirements?
Will the Metaverse be a factor that impacts the growth of the Edge?
Who is best positioned to dominate at the Edge?
What are the main obstacles to Edge deployment?
What are the best solutions to overcome these obstacles?
And much more.