Edge Centres, the Australian firm deploying solar-powered edge infrastructure, has turned to UK-based DataQube for its US expansion.
Edge Centres is building small modular Edge facilities in Japan and Australia, which are powered by on-site solar panels. DataQube will supply the Australian firm with 20 of its pods, which are more like roadside cabinets than traditional modular data centers, which are usually the size of ISO shipping containers.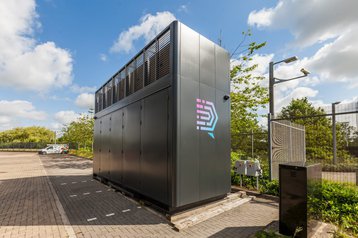 Further orders are expected.
Podulike?
DataQube's pods are "person-free", ie cabinets that are maintained from the outside. They are shipped in flatpack form and DataQube says they can be up and running in nine months, at half the upfront cost of refurbishing a conventional building to house the kit. The pods are secure and sterile, and meet building regulations and LEED standards, DataQube says.
The cabinets are made with outer and inner structures manufactured from lightweight materials for portability, and the company claims a PUE (power usage effectiveness) of less than 1.05.
"We needed a partner that we could work with globally," said Jon Eaves, CEO at Edge Centres. "DataQube and Edge Centres are aligned on a global roll-out plan starting in the US."
DataQube recently raised €26 million ($29m) in Series A funding from French investment management company Rgreen Invest. It will make the cabinets for Edge Centres in new factory space in the US ,
David Keegan, CEO of DataQube Global said: the company's "podular" data centers made commercial sense and were green.
Yes, he said "podular."